June 11, 2010
2009-2010 Season - Vikings finish season ranked 28th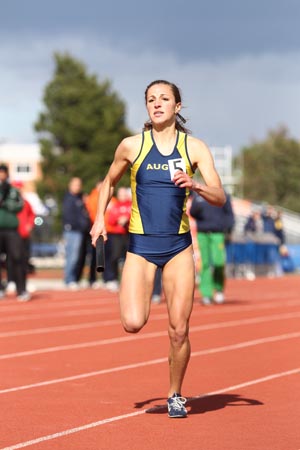 Hannah Hottle shared the MVP honors for the Vikings with fellow junior Amy Walsh for the 2010 season. Augustana finished the year ranked 28th in the NCAA Division III dual meet rankings.
With the completion of the 2010 outdoor track and field season, the Augustana women find themselves ranked 28th in the NCAA Division III dual meet national power rankings. The Vikings of veteran head coach Fred Whiteside finished with 161.63 points. The Vikings reached their highest ranking on April 20 when they were ranked 18th.
The power ranking is sponsored by the US Track & Field and Cross Country Coaches Association (USTFCCA) and it encompasses the top two performances by each team in every event.
Wisconsin-Eau Claire claimed the power rankings championship with 206.44 points. Wisconsin-La Crosse finished second with 199.99 points and Williams finished third with 198.01 points.
2010 NCAA DIVISION III WOMEN'S TRACK & FIELD DUAL MEET POWER RANKINGS
US Track & Field/Cross Country Coaches Association
May 5, 2010

1 – Wisconsin-Eau Claire 206.44
2 – Wisconsin-La Crosse 199.99
3 – Williams 198.01
4 – Ithaca 196.07
5 – St. Thomas (Minn.) 191.53
6 – Chicago 191.39
7 – Wisconsin-Oshkosh 190.37
8 – North Central 187.51
9 – Wisconsin-Whitewater 186.40
10 – Concordia (Minn.) 186.13
11 – Nebraska Wesleyan 181.72
12 – Illinois Wesleyan 181.35
13 – College New Jersey 181.26
14 – Washington (St. Louis) 173.68
15 – Ohio Wesleyan 172.41
16 – Willamette 172.12
17 – Emory 168.08
18 – Monmouth (Ill.) 167.50
19 – Simpson 167.43
20 – Loras 166.30
21 – Christopher Newport 165.24
22 – Southern Maine 165.15
23 – California Lutheran 164.75
24 – Marietta 163.11
25 – Claremont McKenna-Harvey Mudd-Scripps 162.78
26 – Rhodes 162.59
27 – Rochester 162.13
28 – Augustana 161.63
29 – Susquehanna 161.05
30 – Occidental 160.80