June 10, 2010
2009-2010 Season - Men's Track finishes 2010 ranked 3rd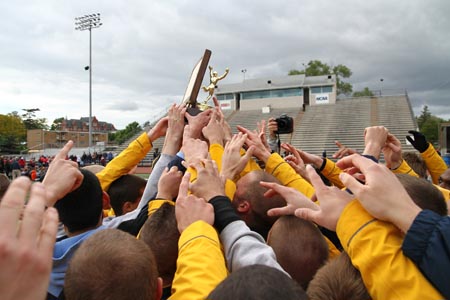 The Vikings hoist the CCIW trophy after winning the conference title for the second time in the last three years. Augustana finished the 2010 season ranked third in the NCAA Division III dual meet rankings.
After a very successful outdoor track and field season that included their second conference championship in the last three years, the Augustana men finished the season as the third ranked team in the NCAA Division III power rankings. The Vikings finished the season with 222.03 points and trailed only Wisconsin-Oshkosh and North Central in the power rankings. The Vikings of veteran head coach Paul Olsen held the number one ranking from April 13 to May 4.
Wisconsin-Oshkosh finished the season with 223.96 points to claim the power rankings championship for the 2010 outdoor track and field season. Augustana's CCIW rival North Central finished the season in second with 222.63. The Vikings finished third ahead of Wisconsin-La Crosse (218.66) and Wisconsin-Eau Claire (216.06) who finished fourth and fifth respectively. All of the top five schools in the power rankings hail from the Midwest region, showing that the Midwest is arguably the strongest region in the nation.
The final five spots in the top ten of the power rankings alternated between teams from the West and New England regions. Whitworth (6 th with 212.63), Willamette (8 th with 204.96), and Claremont McKenna-Harvey Mudd-Scripps (10 th with 202.60) represented the West region in the top ten. Williams (7 th with 210.30) and Bates (9 th with 204.28) round out the top ten and represent the New England region.
The power ranking is sponsored by the US Track & Field and Cross Country Coaches Association (USTFCCA) and it encompasses the top two performances by each team in every event.
2010 NCAA DIVISION III OUTDOOR POWER DUAL MEET POWER RANKING
Sponsored by the USTFCCA
As of 06/01/10
POLL #9
| | | | |
| --- | --- | --- | --- |
| RANK | SCHOOL | REGION | POINTS |
| 1. | Wisconsin-Oshkosh | Midwest | 223.96 |
| 2. | North Central | Midwest | 222.63 |
| 3. | Augustana | Midwest | 222.03 |
| 4. | Wisconsin-La Crosse | Midwest | 218.66 |
| 5. | Wisconsin-Eau Claire | Midwest | 216.06 |
| 6. | Whitworth | West | 212.63 |
| 7. | Williams | New England | 210.30 |
| 8. | Willamette | West | 204.96 |
| 9 | Bate | New England | 204.28 |
| 10. | Claremont McKenna-Harvey Mudd-Scripps | West | 202.60 |