June 8, 2010
2010 Season - 2010 BASEBALL REVIEW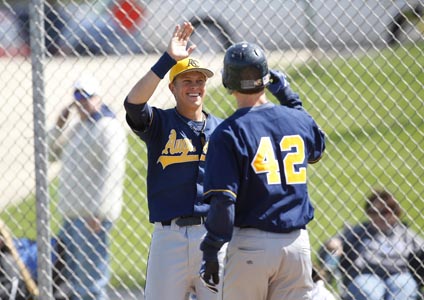 The Vikings finished the 2010 season with a 25-15 record. It marks the 11th time in the last 12 seasons that Greg Wallace's team has eclipsed the 25 victory plateau.
In a season which saw head coach Greg Wallace plug five freshmen into his lineup on a regular basis, some ups and downs could be expected and that was largely the case during the 2010 Augustana baseball season. Wallace's young Vikings busted out of the gate with 12 consecutive wins to open the season, then went 8-13 in CCIW play, but won their final four contests to finish with an overall record of 25-15. It marked the 11th time in the last 12 seasons that the Vikings have reached the 25-win plateau.
The first 11 of the team's 12 season-opening victories came on the team's annual trip to Florida. Included were wins over 2010 NCAA tournament teams Farmingdale State (3-2), Widener (7-2), Rose-Hulman (12-9) and Ripon (5-1). The Vikings' first two losses of the season were to Aurora (6-2) and Buena Vista (8-5)—two teams that also made this year's NCAA tournament.
Augustana opened CCIW play with a doubleheader at Wheaton and suffered a pair of heartbreaking losses. The Vikings gave up two runs in the bottom of the ninth in the opener, falling 10-9 and then surrendered an 11-7 ninth-inning lead in the nightcap as the Thunder won 12-11. Augustana went on to finish sixth in the conference with an 8-13 record, but did win two of three against eventual national champion Illinois Wesleyan. The team closed the season with four consecutive wins including a three-game sweep of Millikin.
Junior infielder Dave Hoffman (Cary-Grove HS, Fox River Grove, Ill.) was the most decorated individual Viking this year, earning first team All-CCIW and Rawlings/ABCA all-region honors. He finished the year at .424 and 37 RBI, leading the team in both categories. His three home runs tied junior outfielder Mike Lamb (Ottawa HS, Ottawa, Ill.) for the team lead as well. Hoffman also led in games (40), starts (40), at-bats (170), hits (72), doubles (15), total bases (96), slugging (.565) and on-base percentage (.472).
Matt Erickson (Marmion Academy, Channahon, Ill.) and Mike Pagano (Notre Dame HS, Chicago, Ill.), two of just five seniors on the Viking roster, both battled injuries this year but closed out very productive careers. Erickson went 2-3 with a 4.06 ERA and led the team with 44 1/3 innings pitched and 34 strikeouts. He was 19-10 for his career, finishing tied for sixth all-time in wins at Augustana. His 225 2/3 innings rank fifth on the school's career list and his 196 strikeouts are fourth. Pagano finished 10th all-time with 184 innings pitched and went 3-0 with a 5.73 ERA this season to finish with a 15-6 career record.
Shortstop Kurt Schmidt (Grayslake Central HS, Grayslake, Ill.) , one of several freshman to make an impact in 2010, joined Hoffman on the All-CCIW team. He was a second team selection as an infielder and the only first-year position player on either the first or second team. He played in all 40 contests, starting 39. He led the team with 45 runs scored and ranked second in batting average (.364), triples (two-tied), on-base percentage (.433) and total bases (76) and third in home runs (two), RBI (29) and stolen bases (five). He also finished the season with 12 consecutive errorless games.
Another freshman, Jared McIntosh (Assumption HS, Davenport, Iowa), made a big impact as well. Seeing time in left field and on the mound (2-1, 4.41 ERA), he hit .317 with two homers and 17 RBI, but after getting off to an awful start, hit .388 with 14 RBI and a slugging percentage of .638 over the season's last 19 games. Other freshman regulars included third baseman Joe Cecchi (Romeoville HS, Romeoville, Ill.) (.326-1-20), designated hitter Tyler Wilson (Valparaiso HS, Valparaiso, Ind.) (.319-1-21) and first baseman Nick Kujawa (Sandburg HS, Orland Park, Ill.) (.292-1-25).
Sophomore Kevin Serna (Rolling Meadows HS, Arlington Heights, Ill.) , the Vikings' center fielder, led the squad with nine stolen bases in as many attempts. He was second on the team in RBI (32) and tied Hoffman for second in runs scored (39). He hit .352. Another sophomore, Mike Barker (Grandview HS, Centennial, Colo.; now resides in Marina del Rey, Calif.) , who played mostly in right, hit .343 with one homer and 26 RBI. Wallace finished the season using a three-man catching rotation consisting of junior T.J. O'Donnell (New Trier HS, Northbrook, Ill.) (.215-1-14)—who was struck by a team-high 15 pitches in just 114 plate appearances—senior Jarl Dahlgren (Auburn HS, Rockford, Ill.) (.395-0-6) and another freshman, Jim Sandberg (J.K. Mullen HS, Littleton, Colo.) (.438-0-2).
Twelve Viking pitchers tossed more than 13 innings this year, with nine throwing at least 22. Freshman Ben Heaton (Bloomington Central Catholic HS, Heyworth, Ill.) (4-0, 2.22) and sophomore Josiah Martin (Canton HS, Canton, Ill.) (4-2, 4.46) tied for the team lead in wins. Sophomore Joe Ufheil (Notre Dame HS, Chicago, Ill.) (1-2, 4.96) was the main man in the bullpen, leading the team with seven saves and tying junior Vince Frede (St. Charles East HS, St. Charles, Ill.) (1-2, 5.28) for the team lead with 15 appearances. Senior Kevin Kulig (2-0, 3.60) (Benet Academy, Lemont, Ill.) and sophomore Mike Trotta (Notre Dame HS, Chicago, Ill.) (2-1, 5.50) also saw significant time on the mound, as did sophomore John Peters (Alleman HS, Milan, Ill.) (3-2, 4.78), junior Raymond Homolka (Glenbard West HS, Wheaton, Ill.) (1-1, 4.91) and freshman Rick Erickson (Lake Zurich HS, Hawthorn Woods, Ill.) (0-1, 5.27).
Wallace, the winningest baseball coach in school history, completed his 13 th year at the helm of his alma mater this year. His record at Augustana now stands at 381-177 (.683) overall and 157-111 (586) in CCIW play.
2010 COLLEGE CONFERENCE OF ILLINOIS & WISCONSIN STANDINGS
| | | | | |
| --- | --- | --- | --- | --- |
| TEAM | CCIW W-L | CCIW PCT | OVERALL W-L | OVERALL PCT |
| North Central | 17-4 | .810 | 31-11 | .738 |
| North Park | 15-6 | .714 | 28-15 | .651 |
| Carthage | 13-8 | .619 | 29-18 | .617 |
| Illinois Wesleyan | 12-9 | .571 | 31-21 | .596 |
| Wheaton | 10-11 | .476 | 24-16 | .600 |
| AUGUSTANA | 8-13 | .381 | 25-15 | .625 |
| Millikin | 5-16 | .238 | 11-29 | .275 |
| Elmhurst | 4-17 | .190 | 9-30 | .231 |
2010 CCIW BASEBALL TOURNAMENT
Friday, May 14, 2010
#3 Carthage 11, #2 North Park 2
#4 Illinois Wesleyan 16, #1 North Central 5

Saturday, May 15, 2010
North Park 11, North Central 10
Carthage 8, Illinois Wesleyan 6
Illinois Wesleyan 9, North Park 7

Sunday, May 16, 2010
Illinois Wesleyan 7, Carthage 4
Illinois Wesleyan 6, Carthage 2
(Illinois Wesleyan wins CCIW Baseball Tournament)
2010 AUGUSTANA BASEBALL SUPERLATIVES
ALL-CCIW: First Team – Dave Hoffman, IF...Second Team – Kurt Schmidt, IF
RAWLINGS/ABCA ALL-REGION: First Team – Dave Hoffman, 2B
AUGUSTANA MOST OUTSTANDING OFFENSIVE PLAYER:
AUGUSTANA MOST OUTSTANDING DEFENSIVE PLAYER:
AUGUSTANA MOST OUTSTANDING PITCHER:
AUGUSTANA'S CCIW TEAM STATISTICAL LEADERS: Sacrifice Bunts – 17; Opponents Batting Average - .294; Fewest Hits Allowed – 216; Fewest Triples Allowed – 1.
ADDITIONS TO TOP TEN LISTS
Career
Batting Average – .379, Dave Hoffman, 6th
Hits – 166, Dave Hoffman, 9th
Doubles – 34, Dave Hoffman, 7th-T
Wins – 19, Matt Erickson, 6th-T
Innings Pitched – 225 2/3, Matt Erickson, 5th...184, Mike Pagano, 10th
Strikeouts – 196, Matt Erickson, 4th
Single Season
Batting Average – .424, Dave Hoffman, 9th
Hits – 72, Dave Hoffman, 4th
Doubles – 15, Dave Hoffman, 7th-T
Triples – 4, Jared McIntosh, 9th-T