June 6, 2010
2010 Season - Wagle, Ramos pursue professional dream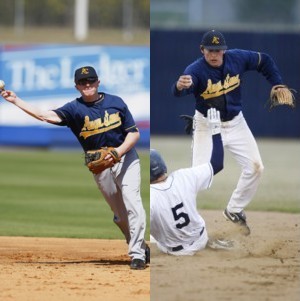 John Wagle (L) and Mark Ramos (R) are both playing professionally with the San Angelo (Texas) Colts of the independent United League.
SAN ANGELO, Texas—A year after their college careers came to an end, a pair of 2009 Augustana graduates have continued playing baseball, competing professionally this summer in the independent United League in Texas. John Wagle and Mark Ramos, both Quad City products who had outstanding careers for the Vikings, have latched on with the ULB's San Angelo Colts.
Wagle has started all 10 games this year for San Angelo, whose season starts in late May. He's played mostly at second base, but has also seen time at third as well as both corner outfield spots. Colts' manager Doc Edwards has plugged him into the second spot in the batting order for every game and after getting off to a bit of a slow start, he's heated up lately, with seven hits in his last 13 at-bats to push his season average to .279. He's also scored 10 runs, driven in six and drawn seven walks for a .373 on-base percentage. Ramos, a shortstop, just signed with San Angelo on June 5 and went 1-for-4 with a run scored and a stolen base in his Colts debut.
San Angelo is a city of approximately 90,000 located in central Texas, about 90 miles southwest of Abilene. The Colts were previously a member of the Central Baseball League, but joined the United League for its inaugural season in 2006. They won the regular season championship last year and finished second in the playoffs, falling in five games to the Amarillo Dillas. Other colorfully-nicknamed teams in the loop include the Coastal Bend Thunder, Edinburg Roadrunners, Laredo Broncos and Rio Grande Valley WhiteWings. Edwards, who managed the Cleveland Indians from 1987-89, is in his fifth season as the Colts' manager. He also had a five-year major league playing career as a catcher for the Indians, Kansas City A's, Yankees and Phillies.
Wagle, who prepped at Rock Island High School and Ramos, who competed for Western Big Six rival United Township in East Moline, Illinois, each left considerable marks on the Augustana record book during their four seasons. Wagle is the Vikings' career record-holder in runs batted in with 154 while Ramos holds the school's career mark in triples with 13.
Wagle also ranks in Augustana's career top five in at-bats (653-2nd), hits (243-2nd), triples (12-2nd), doubles (43-3rd), runs (142-5th) and homers (17-tied for fifth). He also ranks eighth in stolen bases with 38 and ninth in batting with a .372 average. He was a three-time first team All-CCIW selection, a two-time all-region pick and an NCAA Division III All-American in 2008, when he hit .419 with school records of 11 home runs and 60 RBI (which tied Bryan Phillips' record).
Ramos' name appears in the career top ten in five categories in addition to triples. He's third in at-bats with 593, fourth in hits and runs with 212 and 147, respectively, tied for sixth in RBI with 114 and ninth in stolen bases with 37. He hit .358 for his career and earned first and second team All-CCIW and second team all-region honors once each.
Since finishing their Augustana careers, both players have stayed busy. Each competed in the MINK league last year. The prestigious wood-bat summer league operating in Missouri, Iowa, Nebraska and Kansas—hence the name—saw Ramos suit up for the Beatrice (Neb.) Bruins while Wagle competed with the Nevada (Mo.) Griffons. Ramos actually got a head start in the United League as well in 2009, playing a handful of games with Rio Grande Valley. Wagle, meanwhile, began work on his MBA at Loyola University in Chicago and spent the 2010 season as an assistant coach for Augustana's CCIW rival North Park University.