June 2, 2010
2010 Season - Hoffman named to all-Central Region team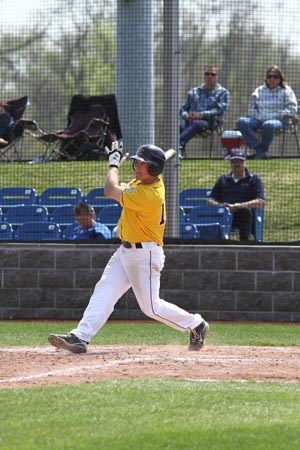 Junior infielder Dave Hoffman was named to the all-Central Region team by the American Baseball Coaches Association for the second consecutive season. He batted .424 and was also a first team all-conference selection.
Junior infielder Dave Hoffman (Cary-Grove HS, Fox River Grove, Ill.) has been named to the first team of the NCAA Division III all-Central Region team, it was announced today. The team is selected by the American Baseball Coaches Association and sponsored by Rawlings. A two time first team all-conference selection in the College Conference of Illinois & Wisconsin, Hoffman was the offensive leader for Augustana during the 2010 season.
He batted .424 with 72 hits in 170 at-bats while scoring 39 runs with 15 doubles, three home runs and 37 runs-batted-in for head coach Greg Wallace's Vikings. He walked 21 times, had six sacrifice flies and stole four bases. Hoffman led the team in average, at-bats, hits, doubles, RBI, total bases, slugging percentage, walks and on-base-percentage (.472). He helped Augustana compile a 25-15 overall record, the 13th straight time that the Vikings have won at least 22 games in a season.
Hoffman was a second team all-region pick a year ago before moving up to the first team this season. He has been outstanding in his first three seasons with the Vikings while playing at first, second and third base. He is a career .379 hitter (sixth on the all-time list) with 166 hits (ninth) in 438 at-bats. He has scored 103 runs with 34 doubles (seventh), one triple, eight home runs, 90 RBI, 52 walks, 16 sacrifices and six stolen bases. His career slugging percentage is a hefty .515 with 226 total bases in 438 at-bats.
He is the son of Dave and Susan Hoffman of Fox River Grove and is currently majoring in psychology.
2010 RAWLINGS/ABCA ALL-CENTRAL REGION TEAM
C – Kevin Kloewer, Buena Vista
1B – Stefan Neece, Greenville
2B – DAVE HOFFMAN, AUGUSTANA
3B – Nick Beaman, Ripon & Ryan Javech, North Park
SS – Brian Kolb, Wheaton
OF – Justin Zeller, Wheaton
OF – Brandon Pietrzyk, Buena Vista
OF – Victor Valdez, Webster
UT – Tony Jandron, St. Norbert
P – Alec Lewis, Coe
P – Jason Pankau, Illinois Wesleyan
P – Will Savage, Webster
P – Ryan Wuebker, Buena Vista
P – Mike Giovenco, North Park