May 30, 2010
2009 Season - Vikings fall in Charity Bowl in Vienna, Austria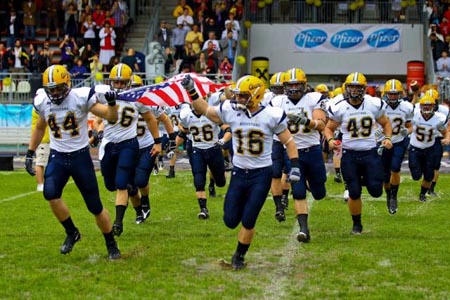 The Vikings played in the Charity Bowl in Vienna, Austria to culminate a 10 day international trip to Switzerland and Austria.
VIENNA, Austria – After three successful outings in Europe, Augustana finally tasted defeat in international football competition. The Vikings battled the elements and the Austrian National Team on Sunday, May 30 in the Charity Bowl before falling 10-3. This is the second time that Augustana has played in the Charity Bowl, with the proceeds going to benefit a local orphanage in Vienna, Austria.
In 2007 the Vikings defeated the Vienna Vikings, the Euro Bowl Champion, by a score of 41-14. That was the third straight win for Augustana on international soil, as the Vikings won in Finland in 1999 and Italy in 2004. This time around, however, a torrential downpour struck 30 minutes prior to the opening kickoff. With field conditions sloppy at best, neither team was able to generate much offense.
Statistically speaking, the two teams combined for just over 350 yards of total offense. Team Austria totaled 220 yards with 83 coming on the ground and 137 through the air. Augustana had 149 yards of total offense with 80 rushing and 69 passing.
"That was rough," said Augustana head coach Jim Barnes, who has now taken three teams on international trips. "It was an old-school mud game and we really struggled on offense. We haven't been in conditions like this in a long time."
After a scoreless first quarter, the Vikings drove to Team Austria's 18 yard line. A delay of game penalty pushed them back to the 23 and sophomore quarterback Patrick Rae's (South Elgin HS, Bartlett, Ill.) pass was intercepted in the end zone to kill a solid scoring opportunity. Two plays netted Team Austria just one yard but on third and nine, quarterback Chris Gross hit wide receiver Pr"ller Andreas for a 75 yard touchdown pass. Pete Kramberger kicked the extra point and Augustana was looking at a 7-0 deficit with 5:22 left before halftime.
The Vikings were backed up in the shadow of their own goal post and forced to punt. Senior Alex Schroeder (Batavia HS, Batavia, Ill.) got off a 46 yard kick but Team Austria had the ball in good field position at its own 48. Two big plays, a 17 yard rush by Mario Nerad and a 25 yard pass from Gross to A. Ponce de Leon got the ball down to the Viking three. However, the Augustana defense stiffened and Kramberger booted a 22 yard field goal with just :38 left before intermission.
Early in the fourth quarter the Vikings put together an impressive 16 play drive that covered 50 yards and ended with graduate Matt Downing (Morton HS, Morton, Ill.) kicking a 26 yard field goal to cut the lead to 10-3 with 9:02 left in the game. Augustana would get the ball for two more possessions but never got past their own 25 yard line.
Sophomore Nate Pena (Neuqua Valley HS, Bolingbrook, Ill.) led the Vikings in rushing with 50 yards on 14 attempts to provide most of the offense. Rae completed four of 16 passes for 38 yards and junior David Lee (Springfield HS, Springfield, Ill.) was two of two for 30 yards. Downing caught three passes for 39 yards.
Barnes was upbeat after the game. "We are certainly disappointed with the outcome," he said. "At the same time, they were a very solid football team with some real strengths and potent weapons. I can't remember so many elements out of our control but we are a group that likes challenges. Candidly, it is hard to prepare for a quality team while touring Europe but we battled with great pride, effort and sportsmanship and for that I am very proud."
The annual Charity Bowl this year served as a kick-off event for the upcoming World Championships of American Football, which will be hosted in Austria next summer after the European Championships are held in the summer of 2010.
On Friday night prior to the game, United States Ambassador William Eacho III, who was in attendance at the game, hosted a reception with international figures committed to the growth of American football. Several Augustana coaches and players attended and demonstrated some of the skills involved in the game.
"Our players and staff did a wonderful job representing our game and Augustana," said Barnes, whose team will open the 2010 season on September 4 at Greenville.
The game was part of a 10-day tour that included stops in Interlaken, Switzerland with a tour of the Swiss Alps, a scrimmage against a Swiss club team and stops in Innsbruck, Kitzbulen and Salzburg, Austria.
Barnes knows this trip will help his team in the future. "We have experienced a lot of growth in skill and camaraderie as a football team as a result of this trip," he said. "It is also great to see these young men exposed to and enjoy the historical, architectural and cultural aspect offered in this part of the world."