May 29, 2010
2009-2010 Season - Christensen and Zeunik All-Americans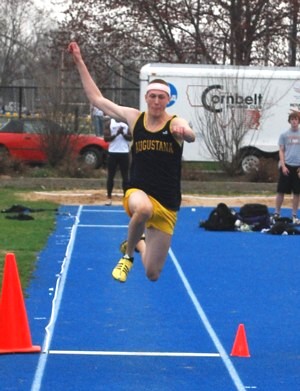 Junior triple jumper Patrick Zeunik earned All-America honors with a seventh-place finish at the NCAA Division III national meet Saturday. Zeunik also finished seventh at this year's indoor nationals.
BEREA, Ohio – A pair of underclassmen pulled down All-American honors at the NCAA Division III Track & Field Championships on Saturday, May 29 at Baldwin-Wallace College in Berea, Ohio. Neither Patrick Zeunik (Bloomington Central Catholic HS, Bloomington, Ill.) nor Phil Christensen (Kaneland HS, Maple Park, Ill.) were strangers to the awards stand at national competition.
Christensen placed third in the discus with a toss of 170' 7" while Zeunik grabbed seventh in the triple jump with a leap of 48' 1 ¼". Both earned All-American honors for the second time in their respective careers.
Christensen was sixth a year ago in the discus with a toss of 162' 5". Earlier this year he set a new Augustana school record when he uncorked a throw of 172' 11" in winning the Viking Olympics on March 27. On Saturday his mark of 170' 7" came on his first throw of the competition and that helped him place first in the second flight of the preliminary round.
Zeunik was also seventh in the triple jump during the indoor national meet earlier this season on March 13 in Greencastle, Indiana. He broke the school record, which had been set by Geoff Smithers back in 1968, with a leap of 48' 2" at the Wartburg Select Meet on April 3 in Waverly, Iowa.
Augustana, which won the College Conference of Illinois & Wisconsin championship just three weeks ago in Wheaton, Illinois, scored eight points in the national meet and finished 38th in the team standings.