May 27, 2010
2009-2010 Season - Vikings head to Greece for three games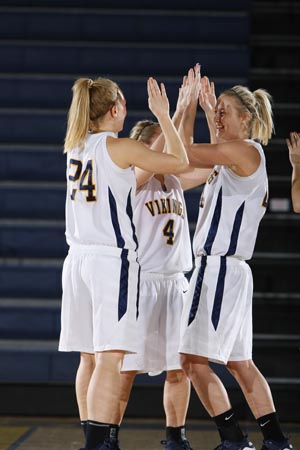 The Augustana women's basketball team will embark on an 11 day trip to Greece on Tuesday, June 1. The Vikings will play three games and enjoy an educational opportunity that head coach Bobbi Endress calls "quite the history lesson".
Augustana women's basketball coach Bobbi Endress is not one to overstate things. By nature she possesses a quiet intensity but even she had to chuckle when asked to describe her team's upcoming trip to Greece. "It will be quite the history lesson," was Endress' comment as her team completes final preparations for an early-summer odyssey.
Endress and assistant coach Mark Beinborn will take 16 team members on an 11 day trip to Greece that will feature three games and a lifetime of memories in an area that is chock full of history and culture.
"This is the first time that the Augustana women's basketball program has taken an international trip and we are excited about it," said Endress who will be entering her fifth year as the Vikings' head coach in 2010-11. "This is a tremendous opportunity for our young women to go to a place where ancient history began. We look at this as a way where the sport of basketball can help teach history and culture."
The Augustana entourage will depart on Tuesday, June 1 and will fly in to Athens. A quick adjustment will be needed in terms of athletic competition because the first game will be Friday, June 4 in Athens for a battle with Protean Voulas. The second game will be on Monday, June 7 against an opponent that has not yet been determined and the final game will be on Wednesday, June 9 against Esperides. The Esperides battle will be a tough one because that is a team that is WNBA caliber.
Mixed in with the three games will be visits to the Acropolis, a trip to Kalamata, a day-long cruise around the Greek islands and an in-depth tour of Athens.
Preparation for the trip has been both physical and mental. The women's basketball team will be the first group in Augustana history to use the "Augie Choice" funding program that was put in place for students to use school funds for international discovery. In order to qualify for "Augie Choice", the student-athletes had to go through a short, but intensive series of lectures by Augustana classics professors Kirsten Day and Emil Kramer. There were three sessions with Day on modern day Greece and the Greek language while Kramer gave one lecture that covered 4,000 years of Greek history.
"We are excited about the educational component that goes along with this trip," remarked Endress. "The "Augie Choice" program is really a great plus for us and eight of our players were eligible to take advantage of it. We are sort of the test model for the program and we feel honored to fill that role."
There will be some adjustments on the basketball court as well. The games will be played under international rules and Endress likes that. "This will force us to play at a much faster pace than we normally do and I think that is a good thing," she said. "Obviously this is a chance for a great team bonding and the extra practices will help us grow. We can't wait to compete."
Endress doesn't think she will change too much in terms of her team's approach, other than the quicker tempo. "We look at this as a chance for us to run our stuff and try and do what we do well," she remarked. "This whole trip will be a big plus for our program."
The women's basketball team is one of three Augustana athletic teams that will be competing internationally this summer. The Vikings' football team is currently in Austria and Switzerland and the men's basketball team will go to China later this summer.
Listed below is a team roster of those that will be making the trip.
Kristen Fox, Senior, Ottawa HS, Ottawa, Illinois
Kayla Papish, Senior, Rock Island Alleman HS, Port Byron, Illinois
Alyssa Neitzel, Senior, Providence Catholic HS, Shorewood, Illinois
Kristina Howard, Junior, Cherokee Trail HS, Aurora, Colorado
Lani Kasten, Junior, Forreston HS, Germantown, Illinois
Abbi Staples, Junior, Sterling HS, Sterling, Illinois
Brianna Skeens, Junior, Vernon Hills HS, Vernon Hills, Illinois
Allie Skaggs, Junior, Petersburg-Porta HS, Petersburg, Illinois
Jessica Scott, Junior, Morrison HS, Morrison, Illinois
Natalie Runge, Junior, St. Dominic HS, O'Fallon, Missouri
Elizabeth Phillips, Junior, Grayslake North HS, Lake Villa, Illinois
Kelsey Mikula, Sophomore, Coal City HS, Coal City, Illinois
Gianna Pecora, Downers Grove South HS, Darien, Illinois
Kristin Warnken, Centaurus HS, Erie, Colorado
Maggie Barnes, Living Word Lutheran HS, Grafton, Wisconsin
Katie Dinkel, Maharashi School of Age/Enlightenment, Fairfield, Iowa