May 25, 2010
2009-2010 Season - 2009-10 WOMEN'S TENNIS REVIEW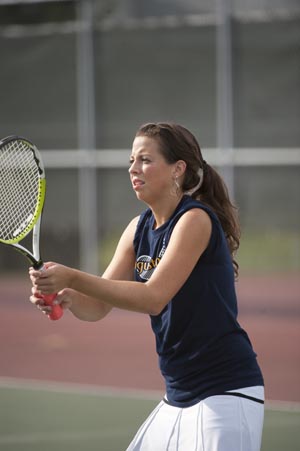 Tricia Crawford led the women's tennis team with 18 singles wins this past season while splitting time at No. 2 and No. 3. She also won 16 matches at No. 1 doubles.
ROCK ISLAND, Ill. – The Augustana women's tennis team completed its season with a 14-14 record after going 8-5 during the spring schedule. The Vikings turned in a fourth place finish at the College Conference of Illinois & Wisconsin flighted tournament after going 6-9 last fall. The Blue & Gold edged out Illinois Wesleyan for the final spot in the CCIW Automatic Qualifier Tournament, but fell 9-0 to Wheaton in the semi-final round to end the season.
The Vikings had wins against Judson, Dubuque, Elmhurst, Millikin, Knox, and Simpson in the fall. The women added victories over Roanoke, York, St. John Fisher, Cornell, St. Ambrose, Eureka, Loras, and Edgewood during the spring season. After five close losses by a 5-4 or 6-3 score in the fall, the squad rebounded with several key wins in the spring, avenging a couple of fall defeats in the process.
Augustana opened up the spring schedule with its annual trip to Hilton Head Island, South Carolina and went 3-1 on the trip with only a 5-4 loss to a 17-3 Lebanon Valley squad standing in the way of perfection. The biggest win of the trip was a 5-4 victory over Roanoke in the opening match of the week. Augustana notched its second 5-4 win of the spring against Cornell a week later and also knocked off St. Ambrose 7-2 at the end of the month to avenge a 5-4 defeat from the fall.
The final two wins of the year came against Loras and Edgewood. Augustana had lost 5-4 to Loras in the fall, but cruised 9-0 in the rematch. Edgewood was champion of the Northern Athletics Conference and qualified for the NCAA Division III national tournament this spring, but Augustana still came through with a 6-3 win. The Vikings rallied from a 2-1 deficit after doubles to earn the hard fought victory.
Senior Jenna Richardson (Melrose Park Walther Lutheran HS, Bellwood, Ill.) held down the No. 1 singles position and finished with a 15-18 overall record. She notched her 100th career victory with a (6-1, 6-0) victory over Dubuque's Hannah Schneidewend in the fall. The senior finished with 125 career wins with 67 in singles and 58 in doubles. She was named to the CCIW All-Conference team for the third straight season and finished fourth in the No. 1 singles flight at the CCIW Tournament.
Richardson and senior Tricia Crawford (Decorah HS, Decorah, Iowa) also teamed together for a 15-17 mark at No. 1 doubles. The duo finished with 24 wins after starting to play together last spring. Crawford led the Vikings with 18 singles wins, finishing 18-16 overall. She finished fourth in the No. 2 singles flight at the CCIW tournament. Despite missing the fall portion of her junior year to study abroad in Costa Rica, Crawford compiled 85 wins during her career. She earned 43 singles victories and 42 more in doubles.
Senior Emily Doemland (Downers Grove South HS, Westmont, Ill.) finished 16-14 in singles and also led the squad with an 18-12 mark in doubles. Doemland tallied 106 wins in her career, finishing with 54 in singles and 52 in doubles. She recorded her 100th win with a singles victory against Mary Nodland of St. Ambrose.
Doemland also proved to be a versatile performer in doubles, matching up with seven different partners during the season. She played the most with sophomore Brittany Reece (Naperville Neuqua Valley HS, Naperville, Ill.), and they accumulated a 7-2 record at No. 3 doubles. The Viking duo was also not seeded in the top four at the CCIW Tournament, but notched wins over the No. 4 seeded team from Illinois Wesleyan and the No. 3 seeded team from Carthage to place third.
Reece put together a solid season in singles action, playing in the No. 5 and No. 6 positions while putting together an 11-15 record. She finished fourth in the No. 5 singles flight at the CCIW Tournament. The sophomore was an impressive 12-5 in doubles, playing with six different partners.
Junior Tricia Sapio (Barrington HS, Hoffman Estates, Ill.) finished 13-18 in singles and made a move to No. 2 in the spring season after spending much of the fall portion of the schedule in the No. 4 spot. She also teamed with freshman Krista Panko (Geneva HS, Geneva, Ill.) for an 8-12 mark at No. 2 doubles. The duo entered the CCIW Tournament unseeded, they knocked off the No. 2 seeded team from Illinois Wesleyan and the No. 4 seeded team from North Central to finish third.
Panko completed the fall season with 10 singles victories and compiled the longest singles winning streak on the team, ripping off seven straight wins during the fall. Panko placed fourth in the No. 6 singles flight at the CCIW Tournament. She followed up with a strong spring season; finishing 16-10 overall and solidifying the No. 5 singles position with a 6-2 spring record.
Freshman Meghan Wethington (Geneseo HS, Geneseo, Ill.) was also a valuable contributor to the Viking lineup. She finished the year with a 9-4 mark in singles and also went 5-2 in doubles competing with four different partners. Wethington was 2-0 at No. 5, 6-2 at No. 6, and 0-2 at the ITA tournament.
Junior Sheri Hendricks (Wheaton Warrenville South HS, Warrenville, Ill.) was 3-2 in singles and 6-8 in doubles, including a 4-4 mark with Doemland. She played 13 of her 19 varsity matches during the spring portion of the season.
Junior Justine Stukas (Downers Grove North HS, Downers Grove, Ill.) finished 1-0 in singles and 5-0 in doubles play. Sophomore Alyssa Quitschau (Jacobs HS, Algonquin, Ill.) was 2-0 in singles and 3-0 in doubles. Sophomore Julie Wach (Marist HS, Chicago, Ill.) won both of her varsity doubles matches.
Augustana finished the year with an overall record of 104-97 in singles and 53-47 in doubles. The team was 93-75 in singles in dual meets with an 18-18 record in CCIW league matches. The Vikings compiled a 46-38 mark in doubles in dual matches and were 7-11 in CCIW meets.
2009 CCIW CHAMPIONSHIPS
October 9-10, 2009 *** Evergreen Racquet Club *** Bloomington, Illinois
TEAM SCORES: 1. Wheaton (72); 2. Carthage (52); 3. North Central (39); 4. Augustana (26); 5. Illinois Wesleyan (24); 6. Elmhurst (5) 6. Millikin (3).
CHAMPIONSHIP MATCHES
10/09-10/09 – Augustana places fourth
| | |
| --- | --- |
| POS | RESULT |
| Singles | |
| 1. | Elizabeth Worsowicz (WHEATON) def. Helen Alex (IWU) 6-1, 6-1 |
| | Jenna Richardson (AUGIE) finishes fourth |
| 2. | Beth Kaufman (CARTHAGE) def. Kayli Edwards (WHEATON) 6-1, 6-2 |
| | Tricia Crawford (AUGIE) finishes fourth |
| 3. | Hollis McPeek (CARTHAGE) def. Jill Casserly (WHEATON) 3-6, 7-5, 7-6 (3) |
| 4. | Lindsey Hallett (WHEATON) def. Kristina Naidicz (CARTHAGE) 6-1, 6-0 |
| | Tricia Sapio (AUGIE) finishes fourth |
| 5. | Sara Federschmidt (WHEATON) def. Ashley Morgan (CARTHAGE) 6-3, 6-0 |
| | Brittany Reece (AUGIE) finishes fourth |
| 6. | Kirsten Boyer (WHEATON) def. Jessica Ignarski (NCC) 6-1, 6-0 |
| | Krista Panko (AUGIE) finishes fourth |
| Doubles | |
| 1. | Gina Klein/Hollis McPeek (CARTHAGE) def. Elizabeth Worsowicz/Kayli Edwards (WHEATON) 6-4, 6-2 |
| 2. | Lindsey Hallett/Kirsten Boyer (WHEATON) def. Beth Kaufman/Kristina Naidicz (CARTHAGE) 6-7 (2), 6-1, 7-5 |
| | Tricia Sapio/Krista Panko (AUGIE) finish third |
| 3. | Jill Casserly/Sara Federschmidt (WHEATON) def. Abby Conover/Jessica Ignarski (NCC) 6-1, 6-0 |
| | Emily Doemland/Brittany Reece (AUGIE) finish third |
2009-10 AUGUSTANA SUPERLATIVES
CCIW ALL-CONFERENCE PLAYERS: Jenna Richardson (2nd team)
CCIW TEAM FINISH: 4th place at conference tournament with 26 points
CCIW "PLAYER OF THE WEEK": Krista Panko (03/31/10)…Jenna Richardson (05/05/10)
100th CAREER VICTORY: Jenna Richardson (09/01/09 vs. Dubuque)…Emily Doemland (03/28/10 vs. St. Ambrose)
100 WIN CLUB: Jenna Richardson with 125…Emily Doemland with 106
CAREER SINGLES WINS: Jenna Richardson…tied for sixth with 67 (67-53)
CAREER DOUBLES WINS (w/ same partner): Jenna Richardson & Tricia Crawford…tied for ninth with 24 (24-20)
MOST SINGLES WINS: Tricia Crawford with 18 (18-16)
MOST DOUBLES WINS: Emily Doemland with 18 (18-12…7-2 with Brittany Reece, 4-4 with Sheri Hendricks, 3-3 with Krista Panko, 1-2 with Tricia Sapio, 1-1 with Meghan Wethington, 1-0 with Tricia Crawford, and 1-0 with Justine Stukas)
LONGEST SINGLES WINNING STREAK: Krista Panko (seven in a row)
LONGEST DOUBLES WINNING STREAK: Emily Doemland (seven in a row with a total of four partners)
ITA SCHOLAR ATHLETE AWARD (for 2008-09): Emily Doemland
CCIW ACADEMIC ALL-CONFERENCE (for fall 2009): Tricia Crawford & Emily Doemland
MOST VALUABLE PLAYER: Jenna Richardson
NEWCOMER OF THE YEAR: Krista Panko
MOST IMPROVED: Tricia Sapio
MOST INSPIRATIONAL: Tricia Crawford, Emily Doemland, & Jenna Richardson