May 25, 2010
2010 Season - Hoffman, Schmidt named all-CCIW in baseball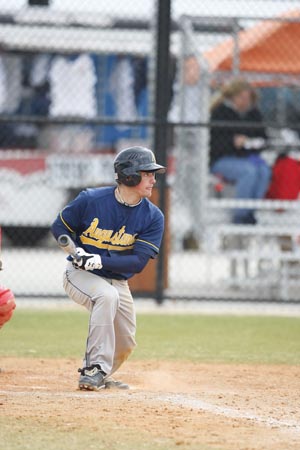 Dave Hoffman led the Vikings in hitting with a .424 average and was named first team all-conference in the CCIW.
Augustanajunior Dave Hoffman (Cary-Grove HS, Fox River Grove, Ill.) and freshman Kurt Schmidt (Grayslake Central HS, Grayslake, Ill.) have been named to the 2010 College Conference of Illinois & Wisconsin all-conference baseball team. Hoffman was a first team selection as an infielder and Schmidt garnered an infield spot on the second team.
Hoffman played at third and first base before settling in at second late in the season. He was the Vikings' leading hitter with a .424 average, tied for the team lead in homers with three and drove in a team-best 37 runs as well. In addition, he led the Vikings in several other categories, including games (40), starts (40), at-bats (170), hits (72), doubles (15), total bases (96), slugging (.565) and on-base percentage (.472). In CCIW play, Hoffman hit .436, which was third in the conference. He was also tied for second in the league in hits (41) and fourth in total bases (58).
Schmidt was a fixture at shortstop for coach Greg Wallace from day one. He played in all 40 contests, starting 39, including the first 28 of the season. He was one of just two freshmen—and the only first-year position player—on this year's all-conference team. He led the Vikings with 45 runs scored and ranked second in batting average (.364), triples (tied with two), on-base percentage (.433) and total bases (76); and third in home runs (tied with two), RBI (29) and stolen bases (five). Schmidt also finished the season with a string of 12 consecutive errorless games.
North Central catcher Michael Corrigan was named the CCIW's Player of the Year. Illinois Wesleyan's Jason Pankau and North Park's Peter Sparacino shared the Pitcher of the Year award and John Fitzgerald of regular season champion North Central was the conference's Coach of the Year.
2010 CCIW All-Conference Baseball Team
| | | | |
| --- | --- | --- | --- |
| POS | PLAYER (School) | YR | HOMETOWN (HIGH SCHOOL) |
| 1 st Team | | | |
| Outfielder | Will Hodges (Carthage) | Jr. | Oak Park, Ill. (West Aurora) |
| Outfielder | Blaise Sylvester (Millikin) | Sr. | Matteson, Ill. (Marian Catholic) |
| Outfielder | Trevor Whately (Carthage) | Sr. | Fairbury, Ill. (Prairie Central) |
| Outfielder | Justin Zeller (Wheaton) | So. | Indianapolis, Ind. (North Central) |
| Infielder | Joey Aiello (Carthage) | So. | Libertyville, Ill. (H.S.) |
| Infielder | DAVE HOFFMAN (AUGUSTANA) | Jr. | Fox River Grove, Ill. (Cary Grove) |
| Infielder | Ryan Javech (North Park) | So. | Wheaton, Ill. (North) |
| Infielder | Brian Kolb (Wheaton) | Sr. | Carlsbad, Calif. (Santa Fe Christian) |
| Infielder | Nick Robinson (North Central) | Sr. | Chicago, Ill. (Notre Dame) |
| Catcher | Michael Corrigan (North Central) | Jr. | Elburn, Ill. (St. Charles North) |
| Designated Hitter | Joe Turek (North Central) | So. | Frankfort, Ill. (Lincoln-Way East) |
| Utility Player | Trevor Popp (North Park) | Jr. | Antioch, Ill. (H.S.) |
| Pitcher | Nate Arenson (North Central) | Jr. | Naperville, Ill. (North) |
| Pitcher | Mike Giovenco (North Park) | Jr. | River Grove, Ill. (Fenwick) |
| Pitcher | Jason Pankau (Illinois Wesleyan) | Jr. | Elmhurst, Ill. (York) |
| Pitcher | Peter Sparacino (North Park) | Jr. | Chicago, Ill. (Carl Schurz) |
| | | | |
| 2nd Team | | | |
| Outfielder | Stefen Edwards (Millikin) | Sr. | Momence, Ill. (H.S.) |
| Outfielder | Drew Golz (Wheaton) | So. | River Forest, Ill. (Oak Park-River Forest) |
| Outfielder | Dan Matkovic (Elmhurst) | Jr. | Carol Stream, Ill. (Glenbard North) |
| Outfielder | Dan Scott (North Central) | Jr. | Frankfort, Ill. (Lincoln-Way East) |
| Infielder | Josh Albers (Carthage) | Jr. | Green Oaks, Ill. (Libertyville) |
| Infielder | Casey McIntosh (Illinois Wesleyan) | Sr. | Columbia, Mo. (Hickman) |
| Infielder | Peter Romanello (North Central) | So. | Lake Zurich, Ill. (H.S.) |
| Infielder | KURT SCHMIDT (AUGUSTANA) | Fr. | Grayslake, Ill. (Grayslake Central) |
| Infielder | Andrew Wulbecker (North Central) | Sr. | Hoffman Estates, Ill. (H.S.) |
| Catcher | Zach Deutscher (North Park) | Jr. | Batavia, Ill. (H.S.) |
| Designated Hitter | Devin Melecio (North Park) | So. | Chicago, Ill. (Roberto Clemente) |
| Utility Player | Nick Herrera (Elmhurst) | Sr. | Geneva, Ill. (H.S.) |
| Pitcher | TJ Hecimovich (North Central) | Fr. | Munster, Ind. (H.S.) |
| Pitcher | Mike Kloss (North Central) | Sr. | Chicago, Ill. (Notre Dame) |
| Pitcher | Kevin Krajewski (North Central) | Sr. | Spring Grove, Ill. (Richmond-Burton) |
| Pitcher | Eric Rohe (Carthage) | So. | Mundelein, Ill. (H.S.) |
CCIW Co-Pitchers of the Year Jason Pankau – Illinois Wesleyan
Peter Sparacino – North Park
CCIW Player of the Year Michael Corrigan – North Central
CCIW Coach of the Year John Fitzgerald – North Central