May 25, 2010
2010 Season - Quaritsch named to All-American team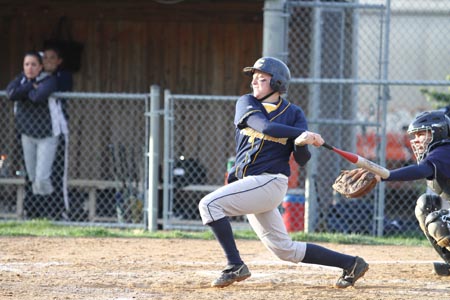 Karlee Quaritsch finished her career as Augustana's all-time leader in home runs. She was also named to the NCAA Division III All-American team.
Augustana senior Karlee Quaritsch (Palatine HS, Palatine, Ill.),this year'sCCIW Player of the Year, has added another to her growing list of awards for the 2010 season. Quaritsch has been named to the Louisville Slugger/National Fastpitch Softball Coaches Association Division III All-America team. She was a second team selection at catcher.
The 5' 5" Quaritsch, who logged time at third base in addition to catching, led the Vikings with 11 home runs this season. That mark equaled her own single-season school record, set in 2008, and gave her 31 for her career—also a school record. She led the Vikings in batting with a .409 average and topped the squad in several other categories as well, including runs scored (35), runs batted in (tied with 36), hits (54), total bases (96), slugging (.727) and on-base percentage (.470).
Quaritsch ranks prominently on Augustana's career leader boards as well. In addition to being the school's all-time home run leader, she is second in RBI with 111—trailing only Sam Knox's (2004-07) 131—tied for fifth in runs (108), eighth in hits (157) and doubles (28), ninth in at-bats (418) and 10th in batting average (.376).
2010 Louisville Slugger/NFCA Division III All-America Team
First Team

| | | |
| --- | --- | --- |
| Pos. | Name | School |
| P | Kim Lambert | Luther College |
| P | Molly Rathbun | Eastern Connecticut State University |
| C | Tiffany Kruse | Luther College |
| 1B | Whitney Wyly | University of Texas at Tyler |
| 2B | Donnalyn Cross | Cortland State University |
| 3B | Harmony Palmer | Claremont-Mudd-Scripps |
| SS | Mary Alice Roy | Louisiana College |
| OF | Joey Cronin | University of Texas at Tyler |
| OF | Jodi Montagnino | Louisiana College |
| OF | Whitney Tornow | University of Wisconsin-Oshkosh |
| DP | Alyssa Schrader | Carthage College |
| UT | Karleigh Prestianni | Linfield College |
| At-large | Staci Doucette | Linfield College |
| At-large | Jackie Mangola | Ohio Northern University |
| At-large | Jessica Rhoads | Messiah College |

Second Team

| | | |
| --- | --- | --- |
| Pos. | Name | School |
| P | Katie Finch | Cortland State University |
| P | Rene Schwartzenburg | Louisiana College |
| C | KARLEE QUARITSCH | AUGUSTANA COLLEGE |
| 1B | Mary Margaret Boda | Muskingum College |
| 2B | Christin Mickelboro | LeTourneau University |
| 3B | Rhiannon Sorrentino | Alvernia University |
| SS | Casey Sullivan | Tufts University |
| OF | Mandi Fought | Ohio Northern University |
| OF | Michelle Gravdahl | Salisbury University |
| OF | Sydney Marquardt | University of St. Thomas |
| DP | Luigina Facchini | Western Connecticut State University |
| UT | Nicole Hedrick | Alfred University |
| At-large | Kimi Blewett | Ohio Northern University |
| At-large | Emilee Lepp | Linfield College |
| At-large | Marta Radcliffe | University of St. Thomas |

Third Team

| | | |
| --- | --- | --- |
| Pos. | Name | School |
| P | Hayley Feindel | United States Coast Guard Academy |
| P | Kelly Leary | Salisbury University |
| C | Amanda Frederick | United States Coast Guard Academy |
| 1B | Alison Wright | University of St. Thomas |
| 2B | Anna Simonson | Luther College |
| 3B | Megan Mitchell | Transylvania University |
| SS | Megan Fieser | University of Washington in St. Louis |
| OF | Melissa Carlson | University of LaVerne |
| OF | Ashley Peterson | Saint Mary's College |
| OF | Bryn Worrilow | Springfield College |
| DP | Emily Morris | Bridgewater College |
| UT | Whitney Dropsey | Hiram College |
| At-large | Cara Montferrat | Centenary College (New Jersey) |
| At-large | Megan Soultz | DePauw University |
| At-large | Katie Tenboer | Central College |