May 24, 2010
2009-2010 Season - Richardson earns fourth straight "MVP" award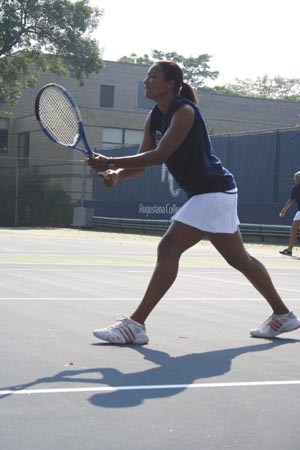 Jenna Richardson was named "MVP" for the fourth straight season. The senior finishes her career with 125 victories. She also shared the "Most Inspirational" award with two of her fellow seniors.
ROCK ISLAND, Ill. – Senior Jenna Richardson (Melrose Park Walther Lutheran HS, Bellwood, Ill.) was honored as the "Most Valuable Player" for the women's tennis team for the fourth straight season, it was announced at the team's post season banquet. Richardson also shared "Most Inspirational" honors with seniors Tricia Crawford (Decorah HS, Decorah, Iowa) and Emily Doemland (Downers Grove South HS, Westmont, Ill.). Freshman Krista Panko (Geneva HS, Geneva, Ill.) was named "Newcomer of the Year", and junior Tricia Sapio (Barrington HS, Hoffman Estates, Ill.) earned "Most Improved" honors for the second straight year.
The women's tennis team, under fourth year head coach Adam Strand, finished the season with a 14-14 overall record and a 2-4 mark in the College Conference of Illinois and Wisconsin. The Vikings are now 51-49 overall under Strand.
Richardson was 15-18 after playing another season at No. 1 for the Vikings. She finishes her career with 67 singles wins, tied for sixth on the all-time list. Richardson also completes her career with a remarkable 13-2 record in third set super tie-breakers. She was also 1-0 in her only full third set match. Richardson teamed with Crawford for a 15-17 mark at No. 1 doubles. The duo finished a season and a half together with 24 wins, tied for ninth on the all-time list. Overall, Richardson ends her incredible career with 125 victories, earning 58 in doubles play. She earned MVP honors after each of her four seasons with the Blue & Gold.
Crawford led the squad with 18 singles wins this past season, finishing 18-16 overall. She was 9-10 at No. 2, 8-4 at No. 3, 1-0 at No. 4, and 0-2 at the Intercollegiate Tennis Association (ITA) regional tournament. Crawford missed the fall season of her junior year while studying abroad in Costa Rica, but still amassed 85 career victories. She won 43 matches in singles and 42 in doubles.
Doemland finished 16-14 in singles play in her final season. She was 7-8 at No. 3 and 9-6 at No. 4. It is the second straight year that Doemland has earned 16 singles wins, and she finishes her career with 54 singles victories. Doemland also won 52 doubles matches to complete her career with 106 total wins. After playing primarily with Crawford and Sapio over the past two and a half seasons, she proved to be extremely versatile this year while playing with seven different partners. Doemland was 18-12 in doubles, including a 7-2 mark with sophomore Brittany Reece (Naperville Neuqua Valley HS, Naperville, Ill.). The duo also placed third at No. 3 doubles at the CCIW tournament.
Panko tallied a singles mark of 16-10 in her first season with the Blue & Gold. She played No. 6 in the fall before moving into the No. 5 slot in the spring. Panko finished 1-0 at No. 4, 7-2 at No. 5, 8-6 at No. 6, and 0-2 at the ITA tournament. She also solidified a spot at No. 2 doubles, finishing with 12 doubles wins. Panko and Sapio combined to win eight matches at No. 2 doubles and finished third at the CCIW tournament.
Sapio finished with a 13-18 mark in singles and made a move all the way up to No. 2 this spring after playing the last year and a half at No. 4. She has come a long way after not playing in the regular lineup during the fall of her freshman season. Sapio has 35 singles wins heading into her senior campaign. She also won 12 doubles matches this year and has 31 doubles wins in three seasons.
2009-10 Augustana Vikings Varsity Letterwinners
| | | |
| --- | --- | --- |
| Player | Yr | Hometown (High School) |
| Crawford, Tricia****(C) | Sr | Decorah, Iowa (Decorah) |
| Doemland, Emily****(C) | Sr | Downers Grove, Ill. (Downers Grove South) |
| Hendricks, Sheri** | Jr | Warrenville, Ill. (Wheaton Warrenville South) |
| Panko, Krista* | Fr | Geneva, Ill. (Geneva) |
| Reece, Brittany** | So | Naperville, Ill. (Naperville Neuqua Valley) |
| Richardson, Jenna****(C) | Sr | Bellwood, Ill. (Melrose Walther Lutheran) |
| Sapio, Tricia*** | So | Hoffman Estates, Ill. (Barrington) |
| Wethington, Meghan* | Fr | Geneseo, Ill. (Geneseo) |
* - Denotes letters won
(C) – Team captains
Head Coach: Adam Strand