May 21, 2010
2009-2010 Season - Vikings record five season bests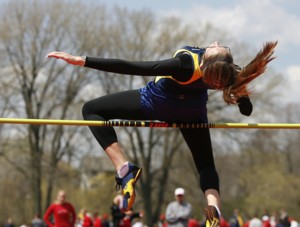 Augustana's Megan Timmerman cleared 4' 8 1/4" to win the high jump at Friday's Twilight Qualifier.
ROCK ISLAND, Ill.—Augustana wasn't able to add any NCAA qualifiers, but did record five season bests at Friday's Twilight qualifier at Ericson Field. Angela Pisani (York HS, Elmhurst, Ill.) won the 1500, Amy Walsh (Cary-Grove HS, Cary, Ill.) equaled her best in the 100-meter hurdles and set a new best in the 400 hurdles. Ainsley Fedler (Burlington HS, Burlington, Iowa) beat her own best in the 200 and the Viking also posted a new top time in the 4x100 relay.
The Vikings had five individual winners at Friday's meet, led by Pisani's 4:56.59 at 1500 meters. Katie Dinkel (Maharishi HS, Fairfield, Iowa) took the 400 in a time of 1:03.17. Tara Bistry (Joliet Catholic, Shorewood, Ill.) ran a 20:09.18 to lead a Viking top-four sweep in the 5000, followed by Kristin Sattizahn's (Erie HS, Erie, Ill.) 20:29.40, Meaghan Reaney (Lincoln-Way Central, New Lenox, Ill.) 21:00.12 and Nicole Babbini's (Libertyville HS, Libertyville, Ill.) 24:57.31. Behind Annie Heifner's (Oregon HS, Oregon, Wis.) winning 11:54.20 in the 3000 steeplechase, Augustana grabbed spots three through five. Katie Ries (Regina HS, Iowa City, Iowa) was third in 12:24.20, followed by Theresa Coverick (Stagg HS, Palos Park, Ill.) (12:26.90) and Sammie Laskowski (Reavis HS, Oak Lawn, Ill.) (13:02.40). Megan Timmerman (Mundelein HS, Mundelein, Ill.) and Kristy Klouda (West Chicago HS, Winfield, Ill.) went one-two in the high jump with leaps of 4' 8¼" and 4' 6¼", respectively.
Fedler took second with a :26.40 in the 200, and the Vikings captured third through seventh places as well. Morgan Gale (Oregon HS, Oregon, Ill.) was third in :27.62, followed by teammates Valerie Bach (Palatine HS, Palatine, Ill.) (:27.69) Heifner (:28.36), Jennifer Garrett (Glenbard North HS, Carol Stream, Ill.) (:28.69) and Katie Rowland (Libertyville HS, Libertyville, Ill.) :30.69. Fedler also ran a :12.66 to finish second in the 100. Bach (:13.42), Gale (:13.46), Garrett (:13.97), Paige Deike (LeRoy HS, LeRoy, Ill.) (:14.73) and Krystal Damiano (Cary-Grove HS, Cary, Ill.) (:15.07) took places three through eight.
Sarahbeth Jones (Warren Township HS, Wadsworth, Ill.) (2:17.68) and Samantha Bazely (Alleman HS, Coal Valley, Ill.) (32' 1½") were second-place finishers in the 800 and triple jump, respectively .The Viking 4x100 relay team finished second as well, running a :49.98.
Walsh's third-place :15.65 in the 100 hurdles matched the time she posted at the CCIW Championships two weeks ago and Emily Margosian (Neuqua Valley HS, Naperville, Ill.) finished sixth in :17.16. Walsh was also third in the 400 hurdles with a 1:04.74. Ella Mathieson (Lyons Township HS, LaGrange, Ill.) was also a second place finisher in the long jump with a leap of 16' 9¾" and was followed by teammates Bazely (14' 10"), Bach (14' 5¼"), Margosian (13' 11 ¾"), Libby Geison (Bloomington HS, Bloomington, Ill.) (13' 11") and Rowland (13' 4¾") in spots three through seven.
Augustana took spots three through seven behind Pisani in the 1500. Brittany Prazak (Naperville North HS, Naperville, Ill.) ran a third-place 5:22.41, followed by Hannah Schneider's (Downers Grove North HS, Downers Grove, Ill.) 5:25.05, Sam Pancamo's (Wauconda HS, Wauconda, Ill.) 5:36.30, Melissa Lehpamer's (Plainfield South HS, Plainfield, Ill.) 5:36.38 and Dana Wleklinski's (Palatine HS, Palatine, Ill.) 5:58.14.
Geison, Gale and Caitlin Quinn (Metamora HS, Metamora, Ill.) tied for third in the pole vault, with each clearing 9' 2½". Klouda and Dinkel finished seventh and eighth, respectively with leaps of 8' 8¾" and 7' 2½".
In the javelin, Catherine Foreman (St. Joseph-Ogden HS, St. Joseph, Ill.) was fifth with a mark of 102'. Devon White (DeKalb, Ill.) finished sixth with a throw of 93' 2" and Danielle Kilberry (Kaneland HS, Elburn, Ill.) threw 68' 8" for eighth.
The NCAA Division III national championships will be held May 27-29 at Baldwin-Wallace College in Berea, Ohio.