May 18, 2010
2010 Season - Quaritsch and Sarb named All-Region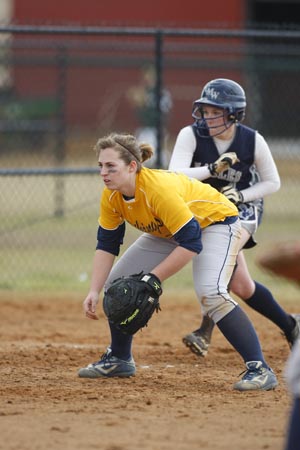 Stephanie Sarb was named to this year's NFSCA Great Lakes All-Region second team.
ROCK ISLAND, Ill. – Augustana's Karlee Quaritsch (Palatine HS, Palatine, Ill.) and Stephanie Sarb (Lisle HS, Lisle, Ill.) have been named to the 2010 Louisville Slugger/National Fastpitch Softball Coaches Association Great Lakes All-Region team. Quaritsch earned first team honors at catcher, while Sarb was an at-large selection on the second team.
Both Quaritsch, a senior, and Sarb, a junior, were first team All-CCIW selections this season and Quaritsch was named the league's Player of the Year as well. Quaritsch led the Vikings with a .409 batting average, 11 home runs, 35 runs scored, 54 hits, 96 total bases, a .727 slugging percentage, a .470 on-base percentage and tied for the team lead in RBI with 36.
Sarb hit .307 with 32 RBI. Her 10 home runs in 2010 rank as the third-highest single-season total in school history, trailing only the 11 that Quaritsch hit in each of the last two years. The two now rank first and tied for fourth in career home runs at Augustana with 31 and 13, respectively.

Great Lakes Region
First Team
P Anna Snyder, Aurora University
P Brittany Adcox,Benedictine University
C Karlee Quaritsch, Augustana College
1B Kathleen Duffy, University of Chicago
2B KC Blahnik, Lakeland College
3B Stephanie Brunette, Concordia University
SS Brittany Wolski, Benedictine University
OF Whitney Tornow, University of Wisconsin, Oshkosh
OF Chelsea Coenen, Lakeland College
OF Taylor VanDamme, University of Wisconsin, Superior
DP Alyssa Schrader, Carthage College
UT Tristan Wilcox, Aurora University
At-large Kelsey Epping, Carthage College
At-large Stephanie Noel, Carthage College
At-large Katie Stalker, University of Wisconsin-Eau Claire
Second Team
P Jessica Stang, University of Wisconsin, Whitewater
P Heather Schultz, University of Wisconsin, LaCrosse
C Patty Olson, University of Wisconsin, River Falls
1B Alex Goodsen, Lawrence University
2B Katie McDonnell, University of Wisconsin, Whitewater
3B Mallory Norton, Lake Forest College
SS Jenna Ahnen, University of Wisconsin, LaCrosse
OF Shannon Starr, Aurora University
OF Jessica Lundgren, University of Wisconsin, River Falls
OF Laura Christensen, Benedictine University
DP Ashley Goettl, University of Wisconsin, River Falls
UT Kayla Krueger, St. Norbert College
At-large Ashley Martin, University of Wisconsin, Superior
At-large Stephanie Sarb, Augustana College
At-large Lauren Cruz, University of Wisconsin, Whitewater