May 15, 2010
2009-2010 Season - Vikings qualify in five events this weekend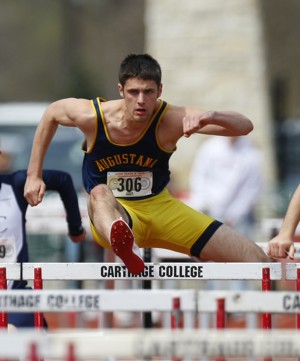 Greg Davis was one of four Vikings to reach NCAA qualfying marks in five events this weekend. Davis ran a :54.23 in the 400 meter hurdles at North Central's Dr. Keeler Invitational Friday.
Members of Augustana's CCIW-champion men's track and field team surpassed NCAA provisional qualifying standards in five events at two meets this weekend. Greg Davis (Carlinville HS, Carlinville, Ill.), in the 400 meter hurdles and Billy Wisser (Hersey HS, Mt. Prospect Ill.), in the 3000 meter steeplechase, were both qualifiers at North Central's Dr. Keeler Invitational on Friday. On Saturday, Viking throwers Darin Decker (Moline HS, Moline, Ill.) and Phil Christensen (Kaneland HS, Maple Park, Ill.) had qualifying performances at the University of Chicago's Penultimate Qualifier. Decker's came in the hammer and shot, and Christensen's in the discus.
DR. KEELER INVITATIONAL
NAPERVILLE, Ill.—Davis qualified with a third-place :54.23 in the 400 hurdles and Wisser with a 9:21.67 in the steeplechase. Freshman Alex Rindone (Marmion Academy, Geneva, Ill.) ran :10.93 and :21.94 in the 100 and 200, respectively, to capture fourth and sixth places. He also anchored the 4x100 relay team that took fifth with a time of :42.01. Max Petersen (Mundelein HS, Mundelein, Ill.), Greg Patton (Bloomington HS, Bloomington, Ill.) and James Wood (St. Charles North HS, St. Charles, Ill.) ran the first three legs.
Nick Borchert's (Ankeny HS, Ankeny, Iowa) :48.75 at 400 meters garnered him a seventh-place finish. Decker put the shot 49' 11¾" to take eighth and Greg Weigand (Wheaton-Warrenville South HS, Wheaton, Ill.) ran a team season-best 1:53.91 in the 800.
CHICAGO PENULTIMATE QUALIFIER
CHICAGO, Ill.—Christensen, who surpassed the automatic qualifying mark in the discus with a throw of 172' 11" earlier this year, uncorked a provisional-qualifying throw of 157' 8" on Saturday to take fourth place. Pat Hoefle's (Lena-Winslow HS, Lena, Ill.) seventh-place 153' 8" heave missed the provisional standard by six inches.
Decker took third in both the shot and hammer with throws of 50' 8¾" and 178' 7", respectively. Both were provisional qualifying marks. Adam Myers (Dixon HS, Dixon, Ill.) took sixth in the hammer with a 166' 10" and Bran Benning (Winnebago HS, Winnebago, Ill.) was eighth in the shot with a 46' 4".
The NCAA Division III national championships will be held May 27-29 at Baldwin-Wallace College in Berea, Ohio.