May 15, 2010
2009-2010 Season - Hottle qualifies at 800 meters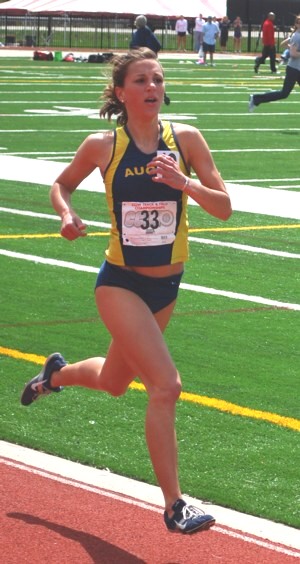 Hannah Hottle ran a 2:13.82 in the 800 meters to surpass the NCAA provisional qualifying time at North Central's Dr. Keeler Invitational Friday in Naperville, Ill.
DR. KEELER INVITATIONAL
NAPERVILLE, Ill.—Augustana's Hannah Hottle (Monmouth-Roseville HS, Monmouth, Ill.) ran a 2:13.82 in the 800 meters Friday, beating the NCAA provisional qualifying standard at North Central's Dr. Keeler Invitational. It was a time bettered by just three runners in school history.
Hottle's time beat her previous best of 2:16.43 set at last weekend's CCIW Championships. Only school-record holder Rachel Knapp (2:11.70 in 1995), Chris Caldwell and Maegan Harris have ever run faster at Augustana.
CHICAGO PENULTIMATE
CHICAGO, Ill.—Several Augustana athletes competed at Saturday's Chicago Penultimate qualifying meet at the University of Chicago's Haydon Track. The Viking 4x400 and 4x100 relays turned in the top finishes, taking second and third, respectively, but the team did not add any NCAA qualifiers.
The 4x400 team took second with a time of 4:14.35 and the 4x100 unit was third in :51.55.
Four Viking individuals captured fourth-place finishes, with Caitlin Quinn (Metamora HS, Metamora, Ill.) clearing 10' 4" in the pole vault, Ella Mathieson (Lyons Township HS, LaGrange, Ill.) going 34' 4 ¼ in the triple jump and Emily Margosian (Neuqua Valley HS, Naperville, Ill.) running a :17.83 in the 100 meter hurdles. Cat Foreman's (St. Joseph-Ogden HS, St. Joseph, Ill.) 106' 4" throw in the javelin also took fourth place and she was followed by teammates in spots five through eight. Rhea Torman's (Marengo HS, Marengo, Ill.) 100' 4" heave took fifth place, followed by Jordan Mauerman's (Albany HS, Albany, Wis.) 91' 2", Brooke Sebek's (Mother McAuley HS, Oak Lawn, Ill.) 78' 10" and Danielle Kilberry's (Kaneland HS, Elburn, Ill.) 73' 6".
Ainsley Fedler (Burlington HS, Burlington, Iowa) and Morgan Gale (Oregon HS, Oregon, Ill) were fifth and seventh, respectively, at 100 meters in :12.95 and :13.46. Gale was also seventh in the 200, running a :27.68, followed by Valerie Bach (Palatine HS, Palatine, Ill.) in eighth with a :27.80.
Sarahbeth Jones (Warren Township HS, Wadsworth, Ill.) and Sammie Laskowski (Reavis HS, Oak Lawn, Ill.) went six and seven in the 800. Jones' 2:22.05 garnered a sixth-place finish and Laskowski ran a 2:29.13 for seventh. Amy Walsh (Cary-Grove HS, Cary, Ill.) and Kelsey Unseth (Willowbrook HS, Villa Park, Ill.) each brought home eighth-place finishes. Walsh ran a 1:05.80 in the 400 meter hurdles and Unseth ran a 23:40.83 at 5000 meters.
The NCAA Division III national championships will be held May 27-29 at Baldwin-Wallace College in Berea, Ohio.