May 15, 2010
2010 Season - St. Norbert eliminates Vikings from NCAAs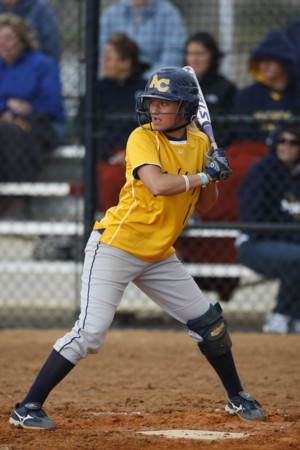 Christina Trojanowski had a pair of hits, including a triple, but it wasn't enough as St. Norbert defeated the Vikings 3-0 in NCAA tournament play Saturday. Augustana finished its season with a record of 31-15.
WHITEWATER, Wis.—St. Norbert took a 2-0 lead in the bottom of the first and never looked back, defeating Augustana by a score of 3-0 in NCAA tournament play Saturday. Green Knight starter Kari Corbeille went the distance, scattering seven Viking hits to keep her team alive in the tournament. Meanwhile, coach Kris Kistler's Vikings see their fine season end with a record of 31-15.
After Augustana couldn't take advantage of a one-out triple by Christina Trojanowski (Evergreen Park HS, Evergreen Park, Ill.) in the top of the first, the Green Knights got to Viking starter Erica Aten (Moline HS, Coal Valley, Ill.) for a pair of runs in the bottom of the inning. Stephanie Ortiz drew a one-out walk and stole second. She scored on Kayla Krueger's triple to right center and Krueger came home when Brieanne Oehlke reached on an infield hit. Aten fanned the next two batters to escape further damage.
Ortiz pushed the St. Norbert lead to 3-0 with a solo home run off Viking reliever Kelli Humbert (Dwight HS, Dwight, Ill.) in the bottom of the fifth.
Augustana put together a mild threat in the top of the sixth, getting singles from Trojanowski and Melissa Nelson (West Aurora HS, Aurora, Ill.) and had runners at first and second with two out, but Corbeille got Stephanie Sarb (Lisle HS, Lisle, Ill.) to pop to first to end the inning.
The Vikings put together one more threat in the top of the seventh. Brittany Snoreck (Sandburg HS, Orland Park, Ill.) came through with a one-out double to center and Missy Fobert (Alleman HS, Rock Island, Ill.) singled to center one out later to move Snoreck to third. However, Corbeille was able to induce a Chrissy Rosin (Niles West HS, Morton Grove, Ill.) come-backer to end the game.
Aten went four innings and gave up two runs on five hits while fanning five and walking just one. The sophomore suffered the loss to finish the season with an 8-3 record. Corbeille improved to 12-3 with the win. Trojanowski and Snoreck each had two hits for Augustana.