May 15, 2010
2010 Season - Vikings fall 9-5 in NCAA tournament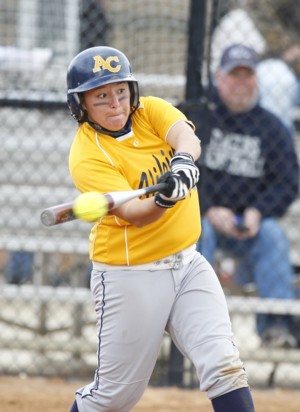 Melissa Nelson's three-run homer wasn't enough to save Augustana in Friday-Saturday's NCAA tournament game. The Vikings fell to Aurora by a score of 9-5.
WHITEWATER, Wis.—In a game that covered two days, the Augustana softball team fell 9-5 to Aurora Saturday morning in the NCAA tournament. The game started Friday night, but was suspended because of darkness with the Spartans leading 6-4 in the top of the seventh. Next up for the Vikings, now 31-14 on the year, is an elimination game against St. Norbert (31-7). That game is scheduled for noon on Saturday.
Maggie Cooper's two-run double off Sheldon Ritzheimer (Wesclin HS, Trenton, Ill.) in the top of the first gave Aurora an early 2-0 lead. They made it 3-0 and knocked Ritzheimer out of the game with an unearned run in the third. Karisa Hansen led off with a single and eventually came around to score on a throwing error.
The Vikings responded by taking the lead with four runs in the bottom of the third. Andi Walker (Plainfield South HS, Plainfield, Ill.) led off with a single to right and was sacrificed to second by Missy Fobert (Alleman HS, Rock Island, Ill.). Chrissy Rosin (Niles West HS, Morton Grove, Ill.) then drew a walk and one out later, Karlee Quaritsch (Palatine HS, Palatine, Ill.)—the hero of the Vikings' first round win on Thursday—drove in Augustana's first run with a double down the left field line. Melissa Nelson (West Aurora HS, Aurora, Ill.) then put the Vikings ahead 4-3, blasting an Anna Snyder pitch over the left field fence for her seventh homer of the season.
Aurora tied the contest with a single run in the fifth and retook the lead with a pair of runs in the top of the sixth. Shannon Starr's two-run double off Kelli Humbert (Dwight HS, Dwight, Ill.) was the big blow in the sixth. After Snyder set the Vikings down in order in the bottom of the inning, Aurora put two runners on against Ritzheimer—who had re-entered the game—in the top of the seventh before the game was suspended.
On Saturday morning, Jackie Gill (Heyworth HS, Heyworth, Ill.) replaced Ritzheimer and the first batter she faced, Tristan Wilcox, blasted a three-run homer to center field to make the score 9-4. Fobert connected on a homer to center—her fifth of the season—leading off the bottom of the seventh, but that would be all the Vikings would get against Snyder, who improved to 25-5 with the win. Humbert took the loss, falling to 2-3 on the year.