May 13, 2010
2010 Season - Quaritsch grand slam lifts Vikings in NCAAs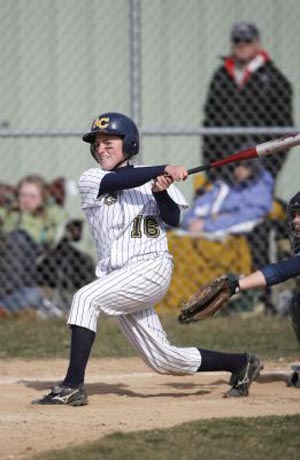 Karlee Quaritsch had the only hit for Augustana in a 4-3 win over Redlands in the NCAA Regional on Thursday. It was a big one, however, as she belted a grand slam home run in the sixth inning to provide the winning margin.
One hit was all Augustana could manage off Redlands starter Olivia Ellis in the first round of the NCAA Division III Softball Regional in Whitewater, Wisconsin on Thursday, May 13. However, that one hit was a grand slam home run off the bat of senior Karlee Quaritsch (Palatine HS, Palatine, Ill.) and that was enough offense as the Vikings picked up a 4-3 victory. With the win Augustana, now 31-13 overall, will play the winner of the Wisconsin-LaCrosse/Aurora contest at 4:00 p.m. on Friday, May 14 at VanSteenderen Field on the campus of Wisconsin-Whitewater. The tournament was delayed by rain earlier in the day so that UW-LaCrosse/Aurora game will be played on Friday morning.
Ellis, now 19-6, handcuffed the Vikings for most of the game and took a 3-0 lead into the top of the sixth inning. Senior second baseman Andi Walker (Plainfield South HS, Plainfield, Ill.) coaxed a walk off Ellis. She gave way to sophomore pinch runner Abbi Staples (Sterling HS, Sterling, Ill.). Senior centerfielder Missy Fobert (Rock Island Alleman HS, Rock Island, Ill.) also walked. After Chrissy Rosin (Niles West HS, Morton Grove, Ill.) flew out to right field but sophomore first baseman Christina Trojanowski (Evergreen Park HS, Evergreen Park, Ill.) reached on an error to load the bases. That brought Quaritsch to the plate.
She delivered with her 11th home run of the season and 31st of her career, both Augustana school records, and suddenly the Vikings were ahead 4-3.
Junior Kelli Humbert (Dwight HS, Dwight, Ill.), who had come in with one out in the fifth, worked scoreless sixth and seventh innings to pick up the victory. She gave up two hits and walked one as she moved her record to 2-2 on the season. Sophomore Erica Aten (Moline HS, Moline, Ill.) was the starter for the Vikings and she went 4 1/3 and was charged with all three runs in the fifth. She struck out three, walked three and gave up six hits.
Redlands, which is 32-13, left eight runners on base.
Augustana, which is just the sixth seed in this regional, is making its fifth overall NCAA appearance and the fourth since 2004. The Vikings won two games in the 2004 regional in Alma, Michigan but did not have a victory in a total of four games in the 2006 (Rock Island) and 2008 (Eau Claire, Wisconsin) regionals.