May 10, 2010
2010 Season - Quaritsch named MVP in CCIW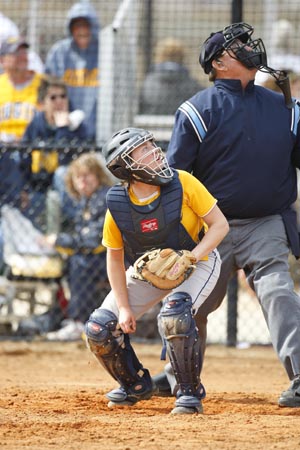 Karlee Quaritsch was selected as the CCIW's Most Valuable Player in softball after she led the league in batting average, hits, home runs, total bases and slugging percentage.
Augustana senior Karlee Quaritsch (Palatine HS, Palatine, Ill.), who led the College Conference of Illinois & Wisconsin in batting average, hits, home runs, total bases and slugging percentage, has been named the league's 2010 Player of the Year. The school's career home run record holder leads a contingent of five Vikings named to the CCIW's all-conference first and second teams.
Quaritsch hit .489 in CCIW play and pounded five home runs. She drove in 10 runs as well, missing the conference's triple crown by three RBI. Her 22 hits, 38 total bases and .844 slugging percentage also led the league. Quaritsch, who caught and played third base, was a team-best .411 hitter overall with 10 homers and 31 RBI. She also led the Vikings in slugging (.718) and one-base percentage (.468). Her 30 career home runs are 11 more than anyone else in the program's history. She was a first team All-CCIW selection for the third consecutive season.
Junior Stephanie Sarb (Lisle HS, Lisle, Ill.), who played primarily at third base and tied Quaritsch for the team lead with 10 home runs, joined her on the first team. She hit .328 overall and was second on the team in RBI (32), total bases (81) and slugging (.633). Sarb was a second team All-CCIW selection as a sophomore.
Senior shortstop Chrissy Rosin (Niles West HS, Morton Grove, Ill.) and outfielders Missy Fobert (Alleman HS, Rock Island, Ill.), a senior, and Melissa Nelson (West Aurora HS, Aurora, Ill.), a junior, were named to the second team. Fobert was the Vikings' second leading hitter with a .381 average and had four homers, 23 RBI and seven stolen bases in as many attempts. Nelson hit .365 with six homers and a team-high 33 RBI. Rosin hit .345 with four home runs and 27 RBI. She also had nine stolen bases in 10 attempts. All three were second team All-CCIW selections for the second time.
Illinois Wesleyan's Christy Engel was named the CCIW's Pitcher of the Year and Wheaton's Lauren Griffith was Newcomer of the Year. Regular season champion Carthage garnered Coaching Staff of the Year.
2010 CCIW ALL-CONFERENCE SOFTBALL TEAM
| | | | |
| --- | --- | --- | --- |
| POS | PLAYER (School) | YR | HOMETOWN (HIGH SCHOOL) |
| 1st Team | | | |
| Pitcher | Christy Engel (Illinois Wesleyan) | Sr. | St. Charles, Ill. (North) |
| Pitcher | Kelsey Epping (Carthage) | Sr. | Bloomington, Ill. (Tri Valley) |
| Catcher | Karlee Quaritsch (Augustana) | Sr. | Palatine, Ill. (H.S.) |
| Catcher | Jenny Burke (Carthage) | Sr. | Lemont, Ill. (H.S.) |
| First Base | Amanda Bowlin (Elmhurst) | Jr. | Ballwin, Mo. (Marquette) |
| Second Base | Adrienne Munoz (Wheaton) | Sr. | Wildomar, Calif. (California Lutheran) |
| Shortstop | Allison Ward (Illinois Wesleyan) | Sr. | Bloomington, Ill. (Normal) |
| Third Base | Stephanie Sarb (Augustana) | Jr. | Lisle, Ill. (H.S.) |
| Outfield | Stephanie Noel (Carthage) | Sr. | Homer Glen, Ill. (Lockport) |
| Outfield | Katie Iser (Wheaton) | Jr. | Downers Grove, Ill. (North) |
| Outfield | Michele Fournier (Elmhurst) | Sr. | Oak Lawn, Ill. (Richards) |
| Utility Player | Lesley Guenard (Wheaton) | So. | Hanover, Mass. (H.S.) |
| Designated Player | Alyssa Schrader (Carthage) | So. | Plainfield, Ill. (South) |
| At Large | Lauren Griffith (Wheaton) | Fr. | Lott, Texas (Midway) |
| At Large | Kara Reid (North Central) | Sr. | Naperville, Ill. (Neuqua Valley) |
| | | | |
| 2nd Team | | | |
| Pitcher | Whitney Schafman (Millikin) | So. | Taylor Ridge, Ill. (Rock Ridge) |
| Pitcher | Stephanie Iori (Elmhurst) | So. | Carol Stream, Ill. (Glenbard North) |
| Pitcher | Lyndsey Payne (North Central) | Jr. | Batavia, Ill. (Geneva) |
| Catcher | Kathleen Campbell (Millikin) | So. | Harrisburg, Ill. (H.S.) |
| First Base | Jacquelyn Tassone (Carthage) | Sr. | Downers Grove, Ill. (South) |
| Second Base | Sonya Le (North Park) | Fr. | Champaign, Ill. (Centennial) |
| Shortstop | Chrissy Rosin (Augustana) | Sr. | Morton Grove, Ill. (Niles West) |
| Third Base | Kayla Mahoney (Illinois Wesleyan) | So. | Elk Grove, Ill. (H.S.) |
| Outfield | Missy Fobert (Augustana) | Sr. | Rock Island, Ill. (Alleman) |
| Outfield | Melissa Nelson (Augustana) | Jr. | Aurora, Ill. (West Aurora) |
| Outfield | Lauren Schramm (North Central) | Jr. | Addison, Ill. (Trail) |
| Utility Player | Sarah Cademartori (Elmhurst) | So. | Norridge, Ill. (Resurrection) |
| At Large | Kate Seebacher (North Park) | Jr. | Skokie, Ill. (Niles North) |
| At Large | Heather Johnson (Carthage) | Sr. | New London, Wis. (Clintonville) |
| At Large | Laura Whitfield (North Central) | Jr. | Newark, Ill. (H.S.) |