May 7, 2010
2009-2010 Season - Vikings finish season at 14-14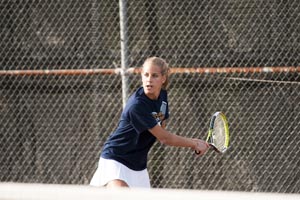 Brittany Reece tallied the closest singles match against Wheaton in the semi-final match of the CCIW AQ tournament this past weekend.
BLOOMINGTON, Ill. – The Augustana women's tennis team dropped a 9-0 decision to nationally ranked Wheaton in the semi-final round of the College Conference of Illinois & Wisconsin Automatic Qualifier tournament this past weekend, ending the season with an overall mark of 14-14. The Blue & Gold were 8-5 this spring.
The Vikings entered the tournament as the No. 4 seed after edging Illinois Wesleyan by two points at the flighted conference tournament last fall. The Thunder, ranked No. 7 in the region and No. 21 in the nation, came in as the No. 1 seed. Carthage (No. 2 seed) and North Central (No. 3 seed) met in the other semi-final.
Augustana got off to a great start at No. 3 doubles where senior Emily Doemland (Downers Grove South HS, Westmont, Ill.) and junior Sheri Hendricks (Wheaton Warrenville South HS, Warrenville, Ill.) raced out to a 4-0 lead. The Wheaton duo of Jill Casserly and Kirsten Boyer eventually rallied back and came away with an (8-5) victory. Seniors Jenna Richardson (Melrose Park Walther Lutheran HS, Bellwood, Ill.) and Tricia Crawford (Decorah HS, Decorah, Iowa) also performed well before falling (8-4) to Elizabeth Worsowicz and Kayli Edwards at No. 1 doubles. Junior Tricia Sapio (Barrington HS, Hoffman Estates, Ill.) and freshman Krista Panko (Geneva HS, Geneva, Ill.) lost (8-2) at No. 2 doubles to Sara Federschmidt and Lindsey Hallett.
Sophomore Brittany Reece (Naperville Neuqua Valley HS, Naperville, Ill.) had the closest singles match of the day, falling (6-3, 6-3) to Boyer at No. 6. Wheaton also won the other five matches in straight sets. The Thunder would go on to defeat Carthage 8-1 the following day in the title match to earn the CCIW automatic bid into the national tournament.
05/07/10 – Wheaton 9, Augustana 0
| | |
| --- | --- |
| POS | RESULT |
| Singles | |
| 1. | Elizabeth Worsowicz (WHEATON) def. Jenna Richardson (AUGIE) 6-1, 6-0 |
| 2. | Kayli Edwards (WHEATON) def. Tricia Sapio (AUGIE) 6-1, 6-1 |
| 3. | Sara Federschmidt (WHEATON) def. Tricia Crawford (AUGIE) 6-0, 6-1 |
| 4. | Lindsey Hallett (WHEATON) def. Emily Doemland (AUGIE) 6-2, 6-0 |
| 5. | Jill Casserly (WHEATON) def. Krista Panko (AUGIE) 6-2, 6-1 |
| 6. | Kirsten Boyer (WHEATON) def. Brittany Reece (AUGIE) 6-3, 6-3 |
| Doubles | |
| 1. | Elizabeth Worsowicz/Kayli Edwards (WHEATON) def. Jenna Richardson/Tricia Crawford (AUGIE) 8-4 |
| 2. | Sara Federschmidt/Lindsey Hallett (WHEATON) def. Tricia Sapio/Krista Panko (AUGIE) 8-2 |
| 3. | Jill Casserly/Kirsten Boyer (WHEATON) def. Emily Doemland/Sheri Hendricks (AUGIE) 8-5 |