May 10, 2010
2010 Season - Softball lands fourth NCAA bid in seven years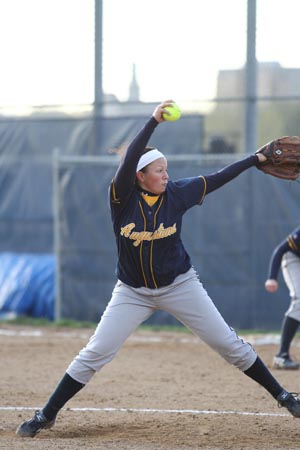 Erica Aten is currently 8-2 with a 2.74 earned run average for the Vikings, who will participate in the NCAA Softball Regional beginning Thursday in Whitewater, Wisconsin.
Thanks to a strong finish in the College Conference of Illinois & Wisconsin Tournament this past weekend, the Augustana softball team has landed a bid in the NCAA Division III Regional. Veteran head coach Kris Kistler's team finished second in the CCIW Tournament in Kenosha, Wisconsin and will now head to Whitewater, Wisconsin for the NCAA Division III Regional. The first round opponent for the Vikings will be the University of Redlands, which will bring a 32-12 into the postseason.
Augustana is now 30-13 overall and the Vikings knocked off a pair of nationally ranked opponents on Saturday, May 8 on the first day of the CCIW Tournament. They took care of #17 Carthage, the CCIW champion and number one seed, in the first round by a score of 9-3 to go into the winner's bracket. In the next game the Vikings beat #21 North Central 6-1. That set up a championship round encounter with Illinois Wesleyan on Sunday, May 9. Augustana lost the first game 7-4 and then dropped the second game 3-2 to finish second.
Before falling twice to the Titans, the Vikings had won nine of their last 11 games. They were 8-6 in the CCIW and went into the conference tournament as the number four seed.
This will be the fifth time in school history that Augustana has made the NCAA Division III Tournament and the fourth times since 2004. The other years that the Vikings were involved in NCAA competition were 1996, 2004, 2006 and 2007. They went to Whitewater in 1996, Alma, Michigan in 2004, hosted in 2006 and traveled to Eau Claire, Wisconsin in 2007.
Offense has been a strength all season long for this team and the ringleader has been catcher/third baseman Karlee Quaritsch (Palatine HS, Palatine, Ill.). Quaritsch, the school's career record holder for home runs with 30, has been terrific at the plate all season. She is batting .411 with 51 hits in 124 at-bats while scoring 33 runs with eight doubles, 10 home runs and 31 runs-batted-in. She has walked 10 times and stolen four bases and her slugging percentage is .718.
The team is hitting .337 with 404 hits in 1,200 at-bats while scoring 260 runs. The Vikings have powered 39 home runs so far this year. They have established new school records for runs scored (old record was 249 in 2009), hits (old record was 399 in 2009) and home runs (old record was 35 in 2007).
Senior centerfielder Missy Fobert (Rock Island Alleman HS, Rock Island, Ill.) is hitting .381 with 37 hits in 97 at-bats with 22 runs with three doubles, one triple, four home runs and 23 RBI. She also has seven stolen bases. Junior leftfielder Melissa Nelson (West Aurora HS, Aurora, Ill.) is batting .365 with 50 hits in 137 at-bats with 27 runs scored, eight doubles, three triples, six home runs and a team high 33 RBI.
In all, a total of nine Vikings are hitting above .300. Sophomore first baseman Christina Trojanowski (Evergreen Park HS, Evergreen Park, Ill.) is at .351 with senior shortstop Chrissy Rosin (Niles West HS, Morton Grove, Ill.) hitting .345. Junior third baseman Stephanie Sarb (Lisle HS, Lisle, Ill.) is batting .328 and she is tied with Quaritsch for the home run lead with 10. Senior second baseman Andi Walker (Plainfield South HS, Plainfield, Ill.) is at .328 and junior rightfielder Dawn Kernich (Mt. Olive HS, Mt. Olive, Ill.) is batting .327.
Junior Sheldon Ritzheimer (Trenton-Wesclin HS, Trenton, Ill.) leads the team in pitching victories with a 12-5 record and a 2.23 earned run average in 81 innings pitched. She has 52 strikeouts and among her 21 appearances are 18 starts. Junior Kelli Humbert (Dwight HS, Dwight, Ill.) has the lowest earned run average at 1.79 and she also has a team leading four saves. Sophomore Erica Aten (Moline HS, Moline, Ill.) is 8-2 with a 2.74 ERA in 69 innings of work.
NCAA DIVISION III WHITEWATER REGIONAL
May 13-17, Whitewater, Wisconsin
GAME SCHEDULE
Thursday, May 13
Game #1 – (1) Luther (37-5) vs. (8) St. Norbert (30-6) @ 10:00 a.m.
Game #2 – (4) Carthage (24-13) vs. (5) Alma (30-9) @ 12:00 noon
Game #3 – (3) Redlands (32-12) vs. (6) Augustana (30-13) @ 2:00 p.m.
Game #4 – (2) Wisconsin-LaCrosse (36-7) vs. (7) Aurora (35-7) @ 4:00 p.m.
Friday, May 14
Game #5 – Loser Game 1 vs. Loser Game 2 @ 10:00 a.m.
Game #6 – Loser Game 3 vs. Loser Game 4 @ 12:00 noon
Game #7 – Winner Game 1 vs. Winner Game 2 @ 2:00 p.m.
Game #8 – Winner Game 3 vs. Winner Game 4 @ 4:00 p.m.
Saturday, May 15
Game #9 – Loser Game 7 vs. Winner Game 6 @ 10:00 a.m.
Game #10 – Loser Game 8 vs. Winner Game 5 @ 12:00 noon
Game #11 – Winner Game 7 vs. Winner Game 8 @ 2:00 p.m.
Game #12 – Winner Game 10 vs. Winner Game 9 @ Winner Game 9 @ 4:00 p.m.
Sunday, May 16
Game #13 – Winner Game 12 vs. Loser Game 11 @ 12:00 noon
Game #14 – Winner Game 11 vs. winner Game 13 @ 2:00 p.m.
Monday, May 17
Game # 15 – Necessary only if the winner of Game 11 loses Game 14 @ 10:00 a.m.