May 9, 2010
2010 Season - Augustana closes season on a high note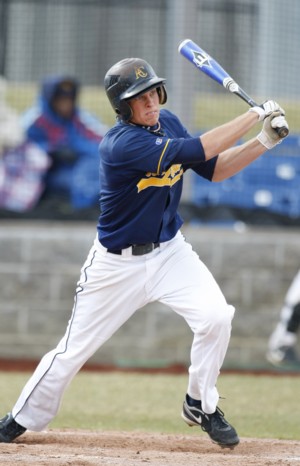 Kevin Serna's 4-for-4 day paced an 18-hit Augustan attack as the Vikings defeated Millikin 12-2.
MOLINE, Ill.—Augustana honored its six senior baseball team members in fine style Sunday, defeating Millikin by a score of 12-2 in the season finale. Leadoff man Kevin Serna (Rolling Meadows HS, Arlington Heights, Ill.) went 4-for-4, Joe Cecchi (Romeoville HS, Romeoville, Ill.) had three hits and Mike Lamb (Ottawa HS, Ottawa, Ill.) drove in three runs as part of an 18-hit Viking attack. The Senior Day win gives Augustana a final record of 25-15 on the year and 8-13 in CCIW play.
Augustana honored senior players Jon Carlson (Glenbrook South, Glenview, Ill.), Jarl Dahlgren (Auburn HS, Rockford, Ill.), Matt Erickson (Marmion Academy, Channahon, Ill.), Kevin Kulig (Benet Academy, Lemont, Ill.) and Mike Pagano (Notre Dame HS, Chicago, Ill.) as well as senior manager Andrew Kemp (Hononegah HS, Roscoe, Ill.) prior to their final collegiate game. Dahlgren started behind the plate and went 1-for-4 with a run scored and Kulig and Carlson both had scoreless stints out of the bullpen with Kulig earning his second win of the season against no losses. Erickson, who went eight innings for the win in game one of yesterday's doubleheader, made an appearance as a pinch runner and scored the game's final run.
The Vikings put this one away early, scoring eight runs in the first inning and knocking Big Blue starter Logan Bolton from the game. Lamb and Dave Hoffman (Cary-Grove HS, Fox River Grove, Ill.) each drove in a pair of runs in the inning. Lamb had a two-run single to center while Hoffman drove in a run with a sacrifice fly his first time up and later had an RBI double as the Vikings sent 13 men to the plate in the frame.
Augustana starter Jared McIntosh (Assumption HS, Davenport, Iowa) cruised through the first two innings but ran into difficulty in the third. After giving up a one-out walk and a single, Blaise Sylvester got to him for a two-run single. After another base-on-balls, coach Greg Wallace summoned Kulig who fanned Sean Ryan to end the inning.
The Vikings made it 10-2 with a pair of runs in the bottom of the fourth. Lamb drove in his third run with a fielder's choice and Cecchi scored on a wild pitch. In the seventh, Cecchi had an RBI single and Erickson later scurried home from third on a throwing error from the outfield to make it 12-2 and end the contest.
Kulig went 2 1/3 scoreless innings and fanned four to pick up the win. Carlson finished up with two scoreless innings of his own.