May 8, 2010
2010 Season - Vikings sweep Millikin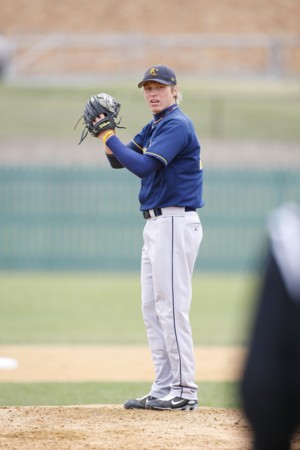 Senior Matt Erickson picked up the win in game one of Augustana's sweep of Millikin Saturday.
MOLINE, Ill.—A fine pitching performance by senior Matt Erickson (Marmion Academy, Channahon, Ill.) in game one and a six-run explosion in the bottom of the eighth inning of game two enabled Augustana to sweep a doubleheader from Millikin Saturday at Swanson Stadium/Brunner Field. The Vikings won the first game 4-1 and the nightcap by a score of 9-5. Augustana is now 24-15 on the year heading into Sunday's season finale against the Big Blue.
Game One—Augustana 4, Millikin 1
Erickson was the story in the first game, allowing just one run on six hits in eight innings to earn his second win against three losses. He walked four and struck out two. Vince Frede (St. Charles East HS, St. Charles, Ill.) threw the final inning to pick up his first save of the season.
The Big Blue got its only run in the second inning. Mike Maziarz led off with a walk and eventually came around to score on a Logan Bolton fielder's choice.
Shut out by Millikin starter Michael Laird through the first five innings, the Vikings offense finally dented the scoreboard with the tying run in the sixth. Kurt Schmidt (Grayslake Central HS, Grayslake, Ill.) led off with a double to right center, moved to third on Dave Hoffman's (Cary-Grove HS, Fox River Grove, Ill.) long fly to center, and scored on Tyler Wilson's (Valparaiso HS, Valparaiso, Ind.) sacrifice fly, also to center.
The Vikings added a single run in the seventh when Jeremy Juhl (Glenbard East HS, Lombard, Ill.) drove in Mike Barker (Grandview HS, Centennial, Colo.; now resides in Marina del Rey, Calif.) with an RBI single to right center. Augustana added two runs in the eighth, the second coming on a Kevin Serna (Rolling Meadows HS, Arlington Heights, Ill.) RBI single to left.
Game Two—Augustana 9, Millikin 5
The Big Blue sandwiched doubles by Andrew Agee and Maziarz around Stefen Edwards and Blaise Sylvester singles to score three runs off Raymond Homolka (Glenbard West, Wheaton, Ill.) in the top of the third.
Augustana tied it in the fifth when Mike Lamb (Ottawa HS, Ottawa, Ill.) scored on a Millikin passed ball, Serna had an RBI grounder and Jared McIntosh (Assumption HS, Davenport, Iowa) lined an RBI single to center.
A Bolton RBI single gave the Big Blue a 4-3 lead in the top of the sixth and it stayed that way until the Vikings came up in the bottom of the eighth.
After Millikin starter Josh Schultz retired Nate Richardson (Smoky Hill HS, Centennial, Colo.) to start the inning, the next four Vikings got base hits—including T.J. O'Donnell's (New Trier HS, Northbrook, Ill.) two-run double—to knock Schultz out of the game. Augustana treated reliever Peter Bonner rudely as well, with four of the next five batters getting hits. Joe Cecchi (Romeoville HS, Romeoville, Ill.) and Hoffman both had RBI doubles, Serna an RBI triple and McIntosh a run-scoring single. When the frame was completed, the Vikings had scored six runs to take a 9-4 lead.
The Big Blue touched Frede for a run in the ninth, but that was all they'd get as the Vikings held on for a 9-5 win.
Mike Trotta (Notre Dame HS, Chicago, Ill.) allowed just one hit and no runs in three innings of relief to pick up his second win against one loss. Augustana pounded out 15 hits in the contest with five different players connecting for two each.
The two teams meet again at Swanson Stadium/Brunner Field on Sunday, May 9 at noon in Augustana's season finale.