May 8, 2010
2009-2010 Season - Women finish fifth at CCIW meet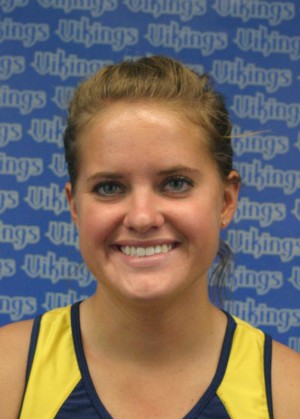 Amy Walsh placed in two individual events and one relay to help the Vikings to a fifth-place finish at the CCIW Championships.
WHEATON, Ill.—Amy Walsh (Cary-Grove HS, Cary, Ill.) took second place in the 400 meter hurdles and fifth in the 100 hurdles and Hannah Hottle (Monmouth-Roseville HS, Monmouth, Ill.) added a second-place finish at 800 meters as Augustana finished fifth at the CCIW championship on Saturday. Illinois Wesleyan took home the team title with 245 points. North Central was second with 214.5. Augustana finished with 71 points.
Walsh's times were 1:05.47 in the 400 hurdles and :15.65 in the 100 hurdles. Hottle ran a 2:16.43 in the 800 while Sarahbeth Jones (Warren Township HS, Wadsworth, Ill.) was eighth with a time of 2:22.66.
Ella Mathieson (Lyons Township HS, LaGrange, Ill) and the Viking 4x400 relay team each brought home third-place finishes. Mathieson went 35' 9¼" in the triple jump and the 1600 relay team of Brittney Bennett (Annawan HS, Annawan, Ill.), Walsh, Jones and Hottle finished in a time of 4:00.75.
Megan Timmerman (Mundelein HS, Mundelein, Ill.) cleared 5' ¼" in the high jump, good for fourth place, and Augustana's 4x100 relay team of Ainsley Fedler (Burlington HS, Burlington, Iowa), Katie Bedene (Grayslake North HS, Lake Villa, Ill.), Valerie Bach (Palatine HS, Palatine, Ill.) and Bennett also finished fourth, running a :50.43.
Fedler took sixth place in the 100 meters with a time of :12.58.
Carthage finished in third place with 113.5 points, followed by Wheaton with 78 points. Millikin finished sixth with 68, Elmhurst seventh with 18 and North Park was eighth with eight points.
The Vikings will be competing next Saturday, May 15, at the University of Chicago's Penultimate Qualifier starting at noon.