May 8, 2010
2009-2010 Season - Men capture second CCIW title in three years

Watch video of coach Paul Olsen addressing his championship team
WHEATON, Ill.—Freshman Alex Rindone (Marmion Academy, Geneva, Illinois) won the 100 and 200 meters and anchored Augustana's winning 4x100 unit to propel the Vikings to the 2010 College Conference of Illinois & Wisconsin championship Saturday. Augustana edged second-place North Central by a 262-260 margin. After breaking the Cardinals' 23-year stranglehold on the title in 2008, coach Paul Olsen's Vikings have now won two of the last three conference championships.
Rindone took the 100 in :10.71, a time bettered at Augustana by only 1981 national champion Kofi Osei. Teammate Max Petersen (Mundelein HS, Mundelein, Ill.) was second with a time of :10.81. Jacob O'Rourke (Assumption HS, Bettendorf, Iowa) ran an :11.22 to garner an eighth-place finish. Rindone's time of :22.29 won the 200 while Petersen's :22.84 was good for third. James Wood (St. Charles North HS, St. Charles, Ill.) came in sixth with a :23.05. Petersen, Greg Patton (Bloomington HS, Bloomington, Ill.), Wood and Rindone teamed up to capture the 4x100 in a time of :41.92.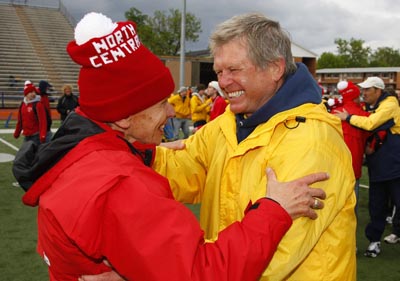 Sophomore Greg Davis (Carlinville HS, Carlinville, Ill) took home individual titles in both hurdle events, running a :15.04 at 110 meters and a provisional qualifying time of :54.15 in the 400 hurdles. Marty King (Oswego HS, Oswego, Ill.) finished third in the 400 hurdles (:55.34) and fifth in the 110 hurdles (:15.59) while Pat Callan (Libertyville HS, Libertyville, Ill.) was fifth and fourth, respectively, with times of :56.46 and :15.54 in the same events. Brendan Bradley (Mundelein HS, Mundelein, Ill.) added an eighth-place finish in the 110 hurdles with a time of :16.08.
Augustana also got wins in the decathlon, shot and discus. Alex Stake (Williamsville HS, Sherman, Ill.) compiled a provisional qualifying 6,492 points to win the decathlon, while teammates Nate Maass (Naperville Central HS, Naperville, Ill.) and Don Anciaux (City HS, Iowa City, Iowa) finished fourth and fifth with 5,558 and 5,403 points, respectively.
Phil Christensen (Kaneland HS, Maple Park, Ill.) and Patrick Hoefle (Lena-Winslow HS, Lena, Ill.) finished first and second in the discus with marks of 160' 9" and 153' 6" and Darin Decker (Moline HS, Moline, Ill.) was fifth with a 148' 2". Christensen's throw surpassed the NCAA provisional qualifying standard.
Decker led a contingent of three Viking place winners in the shot. His winning throw of 52' 8¾" is an NCAA provisional qualifying mark. Brian Benning's (Winnebago HS, Winnebago, Ill.) 47' 7¼" was good for sixth while Tim Whisler's (Maine West HS, Des Plaines, Ill.) 47' 3½" took seventh.
Patton finished second in the 400 and Patrick Zeunik (Bloomington Central Catholic HS, Bloomington, Ill.) also brought home a second-place finish in the triple jump. Patton ran a :48.98 in the 400 while Nick Borchert (Ankeny HS, Ankeny, Iowa) was fourth in :49.52, Wood fifth with a :49.96 and Dan Doubet (Galesburg HS, Galesburg, Ill.) seventh in :50.61. Zeunik went an NCAA-qualifying 46' 8" in the triple jump, ahead of teammates Maass (43' 7¼") and Chad Collins (Thornridge HS, Dolton, Ill.) (42' 11").
The Viking 4x400 team of Davis, Borchert, Wood and Patton finished in fifth with a time of 3:21.64.
Augustana took spots four through seven at 5,000 meters. Chris Zook (Community HS, Normal, Ill.) was fourth with a time of 15:02.4, followed by Brian Pollastrini's (York HS, Elmhurst, Ill.) 15:10.6, Dan Bailey's (Deerfield HS, Deerfield, Ill.) 15:15.5 and Matt Bowman's (Geneva HS, Elburn, Ill.) 15:16.2. Brian Hart (University City HS, St. Louis, Mo.) and Mike Tisza (Hersey HS, Prospect Heights, Ill.) were fourth and eighth, respectively, in the 1500 with times of 4:04.17 and 4:06.88.
Stake was fifth in the high jump, clearing 6' 2¾". The Vikings captured sixth, seventh and eighth in the 800 with Jason Langslet (Mundelein HS, Mundelein, Ill.) (1:57.34), Greg Weigand (Wheaton-Warrenville South HS, Wheaton, Ill.) (1:57.57) and Steve Rogers (Crystal Lake South HS, Crystal Lake, Ill.) (1:59.56).
After Augustana and North Central, the final results were rounded out by Carthage in third with 145, Wheaton in fourth with 61 and Millikin in fifth with 30. Illinois Wesleyan scored 26 points for sixth, followed by North Park's seventh-place 20 and Elmhurst's eighth-place 14.
Next Friday, May 14, the Vikings will compete at the Twilight Qualifier in Naperville, Illinois. The meet is scheduled to start at 4:00 p.m.