May 8, 2010
2010 Season - Vikings to play for CCIW tournament title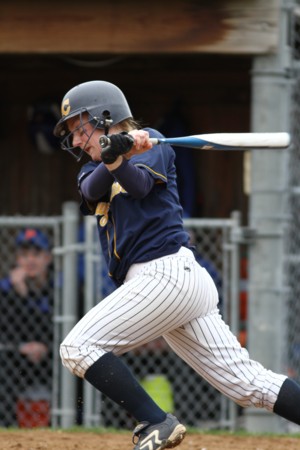 Chrissy Rosin's 4-for-4 day led a 15-hit Augustana attack and helped propel the Vikings into the championship game of the CCIW tournament.
KENOSHA, Wis.—Chrissy Rosin (Niles West HS, Morton Grove, Ill.) went 4-for-4 with a pair of RBI to lead Augustana to a 6-1 win over North Central at the CCIW tournament Saturday. Rosin led a 15-hit Viking attack and starting pitcher Erica Aten (Moline HS, Coal Valley, Ill.) gave up just two Cardinal hits in six innings of work. With two wins on Saturday, the Vikings (30-11) will play for the championship at noon Sunday against the winner of the day's first game between North Central and Illinois Wesleyan. The Cardinals or Titans would have to defeat Augustana twice to win the title.
After the Vikings left two runners stranded in the first, Dawn Kernich (Mt. Olive HS, Mt. Olive, Ill.) got things started in the bottom of the second. She led off the inning with an infield hit and moved to second on a ground out. She then stole third and scored the game's first run on a throwing error. The inning could have been bigger, but Augustana stranded two more runners.
While Aten cruised along, the Vikings scored her another run in the fourth. Again it was Kernich starting things by being hit by a Holly Roadruck pitch. She moved to third on singles by Brittany Snoreck (Sandburg HS, Orland Park, Ill.) and Andi Walker (Plainfield South HS, Plainfield, Ill.) and put Augustana up 2-0 when she scored on a Rosin single. The Vikings again missed an opportunity to open up a bigger lead, leaving the bases loaded.
The Cardinals finally got to Aten for a run in the sixth. Mary Caron had a one-out triple to right and scored on a ground out by Lauren Schramm to cut the lead to 2-1.
After leaving seven runners on base through the first four innings, Augustana finally broke the game open with a four-run sixth. A Snoreck double and Walker single started the inning. Missy Fobert (Alleman HS, Rock Island, Ill.) drove in pinch-runner Abbi Staples (Sterling HS, Sterling, Ill.) with a single to left, but Jessica Peterson (Marian Catholic HS, Lansing, Ill.), also pinch running, was cut down at the plate to keep the score 3-1. Rosin's double to center scored Fobert and Cristina Trojanowski (Evergreen Park HS, Evergreen Park, Ill.) and Karlee Quaritsch (Palatine HS, Palatine, Ill.) singled to load the bases for Melissa Nelson (West Aurora HS, Aurora, Ill.), who delivered a single to center, scoring Rosinto make it 5-1. The final run of the inning scored when Stephanie Sarb (Lisle HS, Lisle, Ill.) was hit by a pitch with the bases loaded.
Kelli Humbert (Dwight HS, Dwight, Ill.) came on to pitch in the seventh and set the Cardinals down in order to sew up the victory.