May 8, 2010
2010 Season - Sarb's homer sparks win over Carthage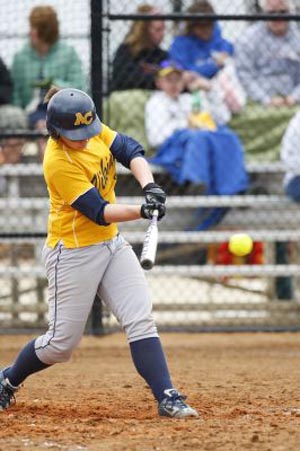 Stephanie Sarb smacked a three run home run in the first inning as Augustana defeated Carthage 9-3 in the CCIW tournament.
Stephanie Sarb (Lisle HS, Lisle, Ill.) blasted a three run homer in the top of the first inning and drove in a run in the third with a single to help lead Augustana to a 9-3 win over Carthage in the first round of the College Conference of Illinois & Wisconsin softball tournament. Carthage is hosting the event in Kenosha, Wisconsin and the Lady Reds were the number one seed.
However, an Augustana offense broke loose and pounded out 15 hits against two Carthage pitchers and bolted to a 4-0 lead before the Lady Reds even batted. The margin went to 5-0 before Carthage scored a single run in the bottom of the third and then the Vikings erupted for four in the top of the fifth to go on top 9-1. The Lady Reds trimmed the margin to 9-3 with two runs in the bottom of the fifth but Kelli Humbert (Dwight HS, Dwight, Ill.) came on in relief and pitched the final 2 2/3 innings to secure the victory.
Chrissy Rosin (Niles West HS, Morton Grove, Ill.) led off the game with a double to right center and Christina Trojanowski (Evergreen Park HS, Evergreen Park, Ill.) singled her to third. Karle Quaritsch (Palatine HS, Palatine, Ill.) grounded out to second to force Trojanowski but Rosin scored the game's first run. Melissa Nelson (West Aurora HS, Aurora, Ill.) singled Quaritsch to second and then Sarb hit her ninth home run of the season, this one down the left field line to make it 4-0.
Sarb's single in the third scored Trojanowski, who had doubled and that made it 5-0. In the top of the fifth the Vikings put four more runs on the board with Brittany Snoreck (Carl Sandburg HS, Orland Park, Ill.) driving in two of them with a single. Missy Fobert (Rock Island Alleman HS, Rock Island, Ill.) and Rosin each had RBI singles in the inning.
Sheldon Ritzheimer (Trenton-Wesclin HS, Trenton, Ill.) started and worked the first four innings before giving way to Rachel Perry (Chillicothe IVC HS, Chillicothe, Ill.) in the fifth. Ritzheimer picked up the victory and moved to 12-4 on the year after she struck out three and gave up five hits and three runs. Humbert relieved Perry and worked 2 2/3 and allowed just two hits and no runs with one strikeout.
Nelson and Rosin each had three hits while Trojanowski, Sarb and Snoreck had two apiece. Augustana moved to 29-11 with the win and will face North Central in a winner's bracket game later in the day.