May 7, 2010
2009-2010 Season - Men second in CCIW after first day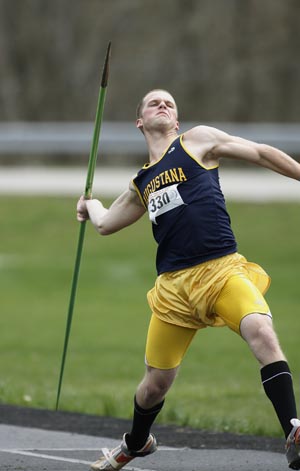 Nate Maass finished second in the javelin in the first day at the CCIW Championships with a toss of 176' 7".
WHEATON, Illinois - The Augustana men's track & field team scored 49 points in the first day of competition in the 2010 College Conference of Illinois & Wisconsin Track & Field Championship. The Vikings are in second place, behind North Central's leading total of 86. Carthage is third with 42 while Illinois Wesleyan is fourth with 19 and North Park is fifth with 16. Millikin (11), Wheaton (6) and Elmhurst (5) round out the field.
Senior Nate Maass (Napervillle Central HS, Naperville, Ill.) had a second place finish in the javelin to record the best finish on Friday, May 7 at Wheaton College in Wheaton, Illinois. He had a throw of 176' 7" while his teammate Alex Mikos (Fenton HS, Wood Dale, Ill.) also placed in the event, taking eighth with a toss of 159' 1".
Senior Darin Decker (Moline HS, Moline, Ill.) finished third in the hammer with a mark of 180' 11" and sophomore Adam Myers (Dixon HS, Dixon, Ill.) was fifth at 162' 2". Sophomore Mike Tovar (Mooseheart HS, Chicago, Ill.) took fourth in the long jump with a leap of 22' 2 1/4" and senior Alex Stake (Williamsville HS, Sherman, Ill.) was fifth at 22' 1 1/2".
The Vikings claimed three places in the pole vault. Eric Chalus (Rochelle HS, Rochelle, Ill.) was fifth at 14' 3 1/4". Colton VanKirk (Rochelle HS, Rochelle, Ill.) finished sixth at 13' 9 1/4" and A.J. Nice (Christian Life HS, Caledonia, Ill.) was seventh at 13' 9 1/4".
Billy TenBusch (Prairie Ridge HS, Cary, Ill.) ran 9:38.72 and took fifth in the 3000 steeplechase and Billy Wisser (Hersey HS, Mount Prospect, Ill.) was seventh in 9:43.88.
Chris Zook (Normal HS, Normal, Ill.) finished sixth in the 10,000 in 32:02.19 with Dan Bailey (Deerfield HS, Deerfield, Ill.) taking seventh in 32:05.49 and Matt Bowman (Geneva HS, Geneva, Ill.) grabbing eighth in 32:09.26.