May  07, 2010
Walton focuses on new teaching hospital in Haiti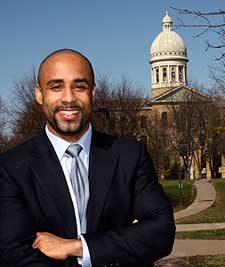 David Walton
(Augustana Photo Bureau/
Marla Alvarado Neuerburg)
Within 48 hours of Haiti's disastrous earthquake, Dr. David Walton '98 was in Port au Prince, providing medical care and helping with the logistics of the massive relief effort.
For two months, he worked 18-hour days to help the people of a country that had captured his heart on his first visit as a Harvard medical student. A popular speaker on campuses throughout the United States, Walton canceled all his speaking engagements after the earthquake hit Haiti. His keynote address at Augustana's 150th commencement on May 23 will be his first since the disaster.
After his two-month mission in Haiti, Walton returned home to Boston, where he works as an associate physician at Brigham and Women's Hospital and as an assistant professor of medicine at Harvard. But his visit was short. He flew back to Haiti in early May to focus on the design and building of a 300-bed hospital and teaching center through a Partners In Health initiative.
It seems fitting that Walton will be traveling from Haiti to Rock Island to speak at Augustana's commencement. The phrase "come full circle" comes to mind because Augustana is where Walton says he first experienced "an idea, a sense of what I wanted to do and how I wanted to use my medical degree in resource-poor countries."
During a summer Spanish program in Cuenca, Ecuador, and later a visit to La Paz, Bolivia, on a Latin America term, Walton was struck by the discrimination the indigenous people suffered, especially when it came to health care. In writing his senior thesis, he experienced an epiphany, and began thinking about health care as a fundamental human right.
In the second week of his first year of medical school, Walton was hired as a research assistant to Paul Farmer, a Harvard professor and the founding director of Partners In Health (PIH). The Boston-based non-profit organization provides health care for the poor in six countries-Haiti, Peru, Russia, Lesotho, Malawi and Rwanda. What seems surprising now is that Walton didn't know who Farmer was at the time. Walton spent two summers as a research assistant in Haiti with Farmer and the PIH team, and there his current life began to take shape.
In recent years, he has lived in Haiti at least seven months of the year, providing medical care in rural areas and serving as assistant director of PIH-Haiti. Due to the earthquake, Walton's time in Haiti likely will increase as he is heavily involved with PIH's three-year recovery and rebuilding plan.
"There was only one teaching hospital in the country, and it's in ruins now, barely functional," Walton says. "We hope to get the new hospital built in 14 months, but there's a ton of work to be done."
Through its rebuilding efforts, PIH is working to redefine the paradigm of health care delivery and education in Haiti. The new hospital, for example, will provide space for teleconferencing and telemedicine, and formal partnerships are being established between Haiti's medical schools and U.S. academic institutions, such as Harvard, Dartmouth and Duke.
"This is our chance to influence medical education in Haiti and broaden opportunities," Walton says. "I was fortunate to spend time in Haiti as a medical student, but only a fraction of the medical students in the U.S. get that kind of opportunity. It's not only about learning tropical medicine, but also establishing long-term relationships with our counterparts in other parts of the world. It's beneficial for everyone."
When asked — a couple weeks before his visit to Rock Island — about the message of his commencement speech at his alma mater, he laughed and admitted he didn't know. But Haiti no doubt will be highlighted because in David Walton's life, everything comes back to Haiti.
(See photographs Dr. David Walton took in Haiti a few days after the earthquake.)