May 6, 2010
2009-2010 Season - Runge named women's basketball "MVP"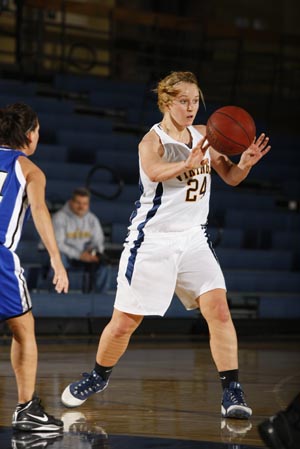 Natalie Runge was named "MVP" and also earned the "Viking Award" after a terrific sophomore season.
ROCK ISLAND, Ill. – Sophomore Natalie Runge (St. Dominic HS, O'Fallon, Mo.) was named "Most Valuable Player" as the Augustana women's basketball team announced its award winners for the 2009-10 campaign. Runge also received the "Viking Award" after a tremendous season on the court.
Junior Alyssa Neitzel (Providence Catholic HS, Shorewood, Ill.) was a key reserve for the Blue & Gold and earned the "Most Improved" award. Sophomore Lani Kasten (Forreston HS, German Valley, Ill.) snatched up the "Windex Award" as the team's leading rebounder. It is the second straight season that she has claimed this honor.
Junior Dawn Kernich (Mt. Olive HS, Mt. Olive, Ill.) was the recipient of the "Defensive Award" and the "Coach's Award." Sophomore Jessica Scott (Morrison HS, Morrison, Ill.) and freshman Courtney Bielis (Johnsburg HS, Ringwood, Ill.) shared Junior Varsity "Most Valuable Player" honors.
Runge compiled 9.2 points per game, playing in all 25 games for the Vikings. She averaged 25.5 minutes per contest while shooting 45.9 percent (90-196) from the field. Runge connected on 61.0 percent (47-77) of her charity tosses and also grabbed 5.8 rebounds per game. She finished the season with 29 assists and 10 steals and also led the squad with 46 boards on the offensive glass.
Neitzel played in 17 games and made three starts, scoring 45 points on the season. She averaged 10.9 minutes of action in her role off the bench. Neitzel nailed 11 of her 36 three point field goal attempts and also had 13 rebounds.
Kasten played in all 25 games, scoring 9.8 points per contest and leading the Blue & Gold on the rebounding front with a 6.5 average. She had a team high 121 rebounds on the defensive boards. Kasten shot 46.6 percent (88-189) from the floor and made 67.3 percent (66-98) of her free throws. She added 47 assists and 28 steals while also picking up a team leading 21 blocks.
Kernich competed in 24 games, including 10 as a starter. She scored 100 points (4.2 average) and had 75 rebounds (3.1 average). Kernich shot 47.4 percent (36-76) from the field and made 65.1 percent (28-43) of her free throws. She finished the year with 21 assists and 14 steals.
The Vikings finished the season with seven wins, the highest victory total for Augustana since the 2003-04 season.
2009-10 AUGUSTANA VIKINGS VARSITY LETTERWINNERS
| | | | | | |
| --- | --- | --- | --- | --- | --- |
| NAME | | POS | HT | YR | HOMETOWN (HIGH SCHOOL) |
| Kristen | Fox**** | G | 5-8 | Sr | Ottawa, Illinois (Ottawa) |
| Dori | Gills* | G | 5-10 | Fr | Boulder, Colorado (Holy Family) |
| Kristina | Howard** | F | 5-10 | So | Aurora, Colorado (Cherokee Trail) |
| Lani | Kasten** | F | 5-11 | So | German Valley, Illinois (Forreston) |
| Dawn | Kernich** | G | 5-7 | Jr | Mt. Olive, Illinois (Mt. Olive) |
| Kelsey | Mikula* | G | 5-6 | Fr | Coal City, Illinois (Coal City) |
| Alyssa | Neitzel*** | G | 5-6 | Jr | Shorewood, Illinois (Providence Catholic) |
| Kayla | Papish* | G | 5-8 | Jr | East Moline, Illinois (Rock Island Alleman) |
| Gianna | Pecora* | G | 5-5 | Fr | Darien, Illinois (Downers Grove South) |
| Elizabeth | Phillips** | G | 5-10 | So | Lake Villa, Illinois (Grayslake North) |
| Natalie | Runge** | F | 5-10 | So | O'Fallon, Missouri (St. Dominic) |
| Jessica | Scott* | F | 5-10 | So | Morrison, Illinois (Morrison) |
| Brianna | Skeens** | G/F | 5-10 | So | Vernon Hills, Illinois (Vernon Hills) |
| Abbi | Staples* | G | 5-5 | So | Sterling, Illinois (Sterling) |
| Kristin | Warnken* | G | 5-5 | Fr | Erie, Colorado (Centaurus) |
* - Denotes letters won
Head Coach: Bobbi Endress
Story written by Assistant Sports Information Director Adam Strand