May 5, 2010
2009-2010 Season - Men's track still number one by narrow margin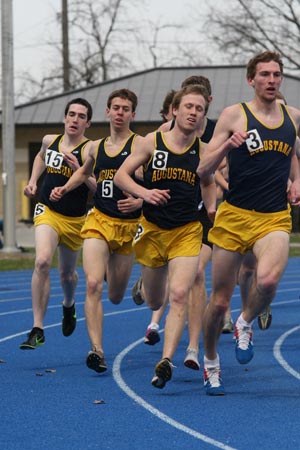 The Vikings have been ranked number one in NCAA Division III for four weeks in a row.
It's not a big margin by any stretch of the imagination but Augustana held onto the number one ranking in the NCAA Division III men's track & field dual meet ranking for fourth consecutive week. The Vikings of veteran head coach Paul Olsen took over the top spot during the ranking of April 13 and have held it ever since. The gap is getting smaller, however, and this week the margin is just one-one hundredth of a point.
Augustana is in first place with 215.84 points while North Central is in second at 215.83. That sets up an interesting battle this weekend at the College Conference of Illinois & Wisconsin championship meet, which will be held at Wheaton College in Wheaton, Illinois on May 7 & 8. Not only will Augustana and North Central be battling for CCIW supremacy, but Carthage (ranked 13 th) and Illinois Wesleyan (ranked 46 th) will also be in the field.
The rankings are heavily infiltrated with Midwest Region teams. Augustana and North Central lead the way for the Midwest but Wisconsin-Oshkosh (5 th with 206.98) and Wisconsin-Eau Claire (6 th with 206.46) give the region four teams in the top six in the nation.
The power ranking is sponsored by the US Track & Field and Cross Country Coaches Association (USTFCCA) and it encompasses the top two performances by each team in every event.
2010 NCAA DIVISION III OUTDOOR POWER DUAL MEET POWER RANKING
Sponsored by the USTFCCA
As of 05/05/10
POLL #5
| | | | |
| --- | --- | --- | --- |
| RANK | SCHOOL | REGION | POINTS |
| 1. | AUGUSTANA | Midwest | 215.84 |
| 2. | North Central | Midwest | 215.83 |
| 3. | Whitworth | West | 210.57 |
| 4. | Williams | New England | 207.49 |
| 5. | Wisconsin-Oshkosh | Midwest | 206.98 |
| 6. | Wisconsin-Eau Claire | Midwest | 206.46 |
| 7. | Willamette | West | 203.74 |
| 8. | Bates | New England | 201.46 |
| 9 | Claremont-McKenna-Harvey-Mudd-Scripps | West | 200.10 |
| 10. | Tufts | New England | 198.63 |