May  04, 2010
'Accidental' coach finds fulfillment, success
"Our greatest journey is not in never failing, but in rising every time I fall."
—Gale Sayers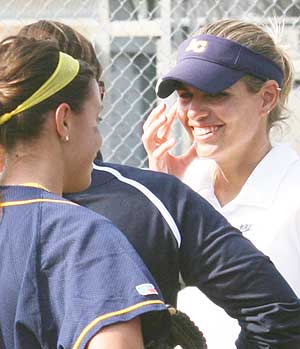 Kris Kistler talks with players after a game. She is the winningest coach in Augustana softball history with a record of 322-154-2 (.676) with the Vikings, going into NCAA play. (Augustana Photo Bureau/Mark Marogil)
That quote by Gail Sayers is just one of the life lessons that Augustana head softball coach Kristina Kistler uses to motivate herself and her team.
Kistler reached a big miletone win in March: her 300th win. Not bad for someone who never planned to be a coach.
"I got into coaching accidentally," she said. "I played softball at Eureka College and after graduation I didn't really know what I was going to do with my life."
So she enrolled in a master's program in Health, Physical Education and Recreation at Illinois State University in Normal, Ill. She soon got a call from the softball coach at nearby Illinois Wesleyan.
"She asked if I would like to be her assistant. At the first practice, I realized that coaching was what I wanted to do. It's amazing that I could play the game for all those years and not even think about coaching it," said Kistler.
But coaching it is just what she did. In 2000, Kistler came to Augustana hoping to further her coaching career. Since that time, she has led Augustana to 11 straight winning seasons, something unprecedented before she arrived.
While working at Illinois Wesleyan, Kistler, who grew up in Monmouth, Ill., had already been thinking about Augustana. "I liked the Quad Cities, and Augustana has a great academic and athletic reputation," she said.
However, when the position opened up in 1999, the timing wasn't the best since she was already coaching at Plattsburgh State University of New York, where she had completed one season. And the new season was just starting.
"I'm not sure if there were any other jobs that I would have applied for at that time, but I couldn't turn down the opportunity," she said. "I was very young and fortunate that Augie gave me a chance."
Kistler's love of sports began at a young age. "My dad played sports in high school, and my mom grew up when girls weren't allowed to play organized sports. She is one of the most competitive people I know, though," she said.
"They never pushed sports on me. They made me try almost everything ... gymnastics, dance, piano, etc. The only thing I ever really wanted to do though was play sports. It didn't really matter what it was. I grew up in a neighborhood of all boys and all we did was play pick-up games. We did it all: baseball, basketball, kickball, football."
Her parents, who live in Monmouth, come to nearly all of Augustana's games. She also has an older brother who is mentally and physically handicapped.
"He moved into a group home when he was 18," Kistler said. "I think that is one of the reasons that sports are such an important part of my life. I never took the ability to run and jump for granted. It was always a privilege to be able to play sports."
The coach is active in all areas of her life. She loves to be outdoors. On a nice day, she enjoys boating or wakeboarding and staying active.
"I like to keep in shape by lifting weights, biking, and jogging with my dogs," she said, "I also enjoy going to sporting events and traveling."
In the off-season, however, work continues. "Recruiting ends up being about 90% of this job," Kistler said. "I spend summer and fall watching a lot of softball games. We spend a lot of time trying to find players that are a good fit with Augustana College and our softball program. We also try to get them on campus as many times as possible."
When motivating herself and the team, Kistler lives by another quote:
"Winning games, titles, and championships isn't all it's cracked up to be, but getting there, the journey, is a lot more than it's cracked up to be."
—John Wooden
So how did it feel to get the 300th win? 11th winning season?
"Reaching milestones gives you a chance to reflect on the great players you have coached and appreciate the support you have around you," Kistler said. "The numbers really don't matter to me. It's the players and knowing that they are having a meaningful and passionate experience that is important to me."
-- By Kelsey Miller '13