March  31, 2010
Where the true exchange happens: among friends
Student from Myanmar gives friends some things to think about
When a young man from a country 8,000 miles away enrolls at Augustana, he is not the only one to learn something new.
Lin "Ryan" Myat is the first student to come here from Myanmar. Different climate, different type of government and different world view. Nearly 90 percent of the people in his country are Buddhists, not Protestants or Catholics.
"It is definitely true that my culture and my background as a Buddhist is totally different from here, but I haven't had any problems," Ryan says.
"I don't drink at all, or for my lifetime, so that was kind of weird for my friends here," he adds, "but they are really good friends and understand me."
Two of his closest friends, Eric Van Lidth de Jeude and Martin Skantze, are international students as well: Eric from the Netherlands and Martin from Norway. What the three have in common is experiencing a country, and a set of beliefs, other than their own.
Ryan's world view and focus stand out to Eric, as well as his ethics.
"He sees life more quietly and peaceful than most people do," Eric explains, "He really wants to get a good education to help his country in the future. Ryan has his own standard philosophies and they don't change by integrating to the American culture."
Ryan's ethics are strong, and he has stayed firm in his beliefs. Eric and Martin noticed this right away. Ryan believes in respecting a woman and practicing abstinence until marriage.
Martin agrees he has learned a lot from Ryan this year, although not everything is quite so serious. "Ryan has given me so much this year," he explains. "On top of great friendship, he has given me new experiences; everything from Burmese candy to taking me to a delicious Burmese restaurant."
Ryan has found many things to like about American culture, including sports. "I have never seen football games or played them before. I think I am in love with American football now!"
A new trend for Myanmar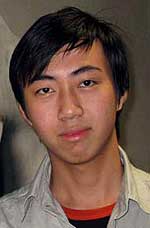 Lin 'Ryan' Myat
Ryan is the oldest of three children. He has a brother and sister, ages 15 and 17. His sister will graduate in May and has chosen to continue her studies in Australia. Ryan's father owns a hotel and imports train engines from China while his mother stays home and takes care of the children.
Ryan applied to several universities in the United States but in the end decided upon Augustana. "Augustana offered me the best scholarship, so I chose this school," he says, "I prefer small and compact schools rather than huge schools.
"I have always wanted to go abroad for a whole new learning experience and of course to have a better education," he says. He is considering a business major.
Augustana is not the only host to a student from Myanmar. All over the world, young people from Myanmar are hitting the books.
"There is a new trend in our country," Ryan says, "High school graduates go out and study abroad in countries like the United States, England, Singapore, Australia and so on." Two of his cousins are studying in Los Angeles.
Classes are going well and he has a lot of hobbies outside of schoolwork. He mentions that since arriving at Augustana he has never done so many interesting and fun things before. "I love to play badminton, table tennis and soccer so much and I am playing them nearly every day here."
Of course, the winter was an experience all by itself. Myanmar is in the monsoon region of Southeast Asia. "I have never seen snow before I came here," Ryan says, "It was awesome.
"One day, I wore like seven layers of clothing and played football with my friends at the snow-covered PepsiCo field. It was one unforgettable experience for me since I come from a very hot place!"
The cold also didn't stop him from his first skiing trip. "It was the most awesome thing that I have ever done before!" he says.
Ryan has been away from home since August, but says he has been perfectly content with his experience here in America. "So far there has been no homesickness for me. I have not been home since I came here in August, but I will be going back home in the summer," he says. "I have done so many interesting and awesome things that I have never done before," he says, "I am enjoying life so much here."
For his friends, Ryan's positive attitude is one of his best qualities. When they're feeling down, they can always go to Ryan for a great laugh. Eric and Martin agree that Ryan's sense of humor is a strong quality.
"As the year progressed, his true personality, which is a humorous and uplifting, started shining through," Martin says, "Ryan isn't just my friend; he is my brother."