Anchors Aweigh: The SS Augustana Victory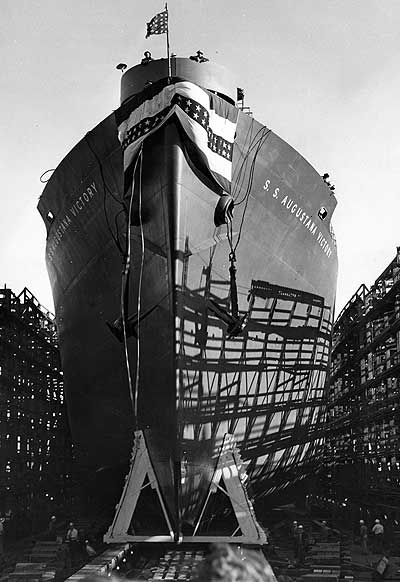 The SS Augustana Victory at the launching ceremony in June 1945. (See larger image)
Anchors aweigh, my boys, anchors away. . .
This Navy march might have been echoing across the Augustana campus on June 9, 1945, as the SS Augustana Victory was christened in San Francisco.
One of 534 Victory cargo ships built in 1944-1945, the SS Augustana Victory weighed in at 7,607 tons. The 455 foot, 600 horsepower ship was built in just eight weeks to deliver supplies and equipment for the U.S. Merchant Marine. The Victory line of cargo ships were redesigned from the Liberty line to achieve a higher speeds of 15-17 knots, stronger, more flexible hulls, and a longer range, all factors in making them less vulnerable to U-boat attacks.
The SS Augustana Victory owes its naming to an Augustana graduate, William Freistat '40, who was employed at the Henry J. Kaiser shipyards in Richmond, Calif., at the time. After selecting ship names honoring Allied nations and 218 American cities, Kaiser and the Navy department decided the next 150 would be named to honor American colleges.
Freistat, according to an article in the Augustana College Magazine in 1995, says the name was chosen "at random." However, once it was chosen, Freistat gathered local Augustana alumni to attend the launching. Speaking at the christening, Augustana graduate Lieutenant Victory Pearson '40 Deffenbaugh presented a check for $200 from the Alumni Association to establish a shipboard library.
In 1948, the SS Augustana Victory was decommissioned by the U.S. War Shipping Administration and transferred to the United States Lines shipping company. It was renamed the SS American Lawyer and served as a cargo ship in their fleet until 1956. At that time is was purchased by American Union Transport Inc. and renamed the SS Transcaribbean.
Where is the SS Augustana Victory today? Accounts of Merchant Marine activities during the Vietnam War mention the SS Transcaribbean being used as a transport ship in 1965. It was one of many cargo vessels responsible for the delivery of bulldozers, cranes, steel, and cement for use by Navy Seabees in Vietnam. A conflicting report states the SS Transcaribbean sunk off the coast of San Juan, Puerto Rico, in January 1963. Because this wreck wasn't in navigation lanes, it was left to deteriorate. National Oceanic and Atmospheric Administration (NOAC) navigational charts for the San Juan port area show wrecks but they are unnamed.
Could exploration of the possible SS Augustana Victory/Transcaribbean be a scuba adventure for you?
| | |
| --- | --- |
| June 1945: Augustana alumni at the launching ceremony, including Victory Pearson (center), and William Freistat (back row left). | |
| | |