February  18, 2010
Dr. Ellen Hay to serve as interim dean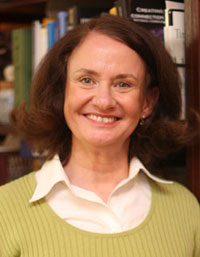 Ellen Hay
Augustana College is pleased to announce the appointment of Dr. Ellen Hay as interim dean and chief academic officer of the college. Hay, who currently serves as a professor and department chair of communication studies, will return to the crucial academic role she previously held in 2003. Her appointment begins June 1.
Prior to serving as interim dean of the college in 2003, Hay served as an assistant dean at Augustana from 1994 to 1996, then as associate dean from 1996 to 2000, when she was named Augustana's dean of academic services. She hopes to draw on previous experience to prepare for the years to come.
"While there have certainly been many changes over the last five years, I think my previous 10 years of experience both as interim dean and as an associate dean have provided me with a context to take into this role," said Hay. "I would also like to look at some of the challenges and opportunities we will encounter over the next 10 to 15 years."
Hay also plans to draw on her colleagues to preserve the academic heritage at Augustana. "As a faculty, I think we can use this time to develop a sense of what we see for the future so that we can better articulate our different perspectives to our next dean."
Hay earned her B.A. and M.A. at the University of Northern Iowa, and her Ph.D. at Iowa State University. She joined the Augustana College faculty in 1989 and was promoted to professor in 1996. Hay currently chairs the Department of Communication Studies and is Director of the Institute for Leadership and Service. Prior to coming to Augustana, she held faculty appointments at the University of Dubuque, Alverno College and Lynchburg College, where she co-directed Lynchburg's Westover Honors Program.
In fall 2009, Dr. Hay and colleague Dr. S.A. Fenwick from Augustana's psychology department received a $25,000 grant from the Davenport-based Riverboat Development Authority to fund summer internships for students at Quad Cities not-for-profit organizations. In a book recently published by the National Communication Association, Hay contributed a chapter on the assessment of communication knowledge and abilities.
Dr. Hay will be filling the position vacated by Dr. Jeff Abernathy, who was recently elected president at Alma College in Alma, Michigan. He will begin his new appointment on July 1. Abernathy has served as dean of the college and professor in the English department at Augustana since 2004.
Sam Schlouch
Senior Communication Director
(309) 794-7833
samschlouch@augustana.edu