Walton with Partners, working in Haiti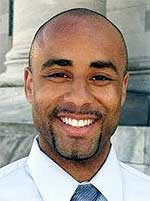 David Walton
Alumnus David Walton '98 has been in Haiti the past week working to provide medical assistance in the wake of the earthquake Jan. 12.
Walton, an internist with at Brigham and Women's Hospital in Boston, is associated with Partners in Health, a medical aid group with community clinics in Haiti and eight other countries. Both organizations supported Walton during his nine months in Haiti operating clinics for Partners in Health. Dr. Walton, an instructor at Harvard Medical School, helped to set up a 54-bed hospital in Haiti in 2008.
Dr. Walton has been sharing photos of the earthquake relief effort on Flickr.
The community will have the opportunity to hear directly from Dr. Walton in May, when he will speak at Augustana's 150th commencement.
Partners in Health and its founder, Dr. Paul Farmer, were the subject of a bestselling book in 2003, Mountains Beyond Mountains by Tracy Kidder.
After receiving his bachelor's degree from Augustana, Dr. Walton entered Harvard Medical School where he became research assistant for Dr. Farmer.
Dr. Walton graduated summa cum laude from Augustana's pre-med program in 1998 with a double major in biology and Spanish. He ran men's track, was a four-year letter winner, CoSIDA Academic All-American and NCAA Postgraduate Scholarship winner. He also was a member of the Phi Beta Kappa Honor Society and received the Finest Under Forty alumni award in 2007.
Walton says the plight of the Haitian people serve as an inspiration for his own life. "The Haitians teach me things every day. They are amazing people. They face adversity daily; yet they face this adversity with an incredible amount of strength and perseverance. I try to imagine what I would do if faced with their circumstances-the poverty, hunger, unemployment, deplorable living conditions."