January 21, 2010
2010 Season - Australia trip expands athletic experience
Trip expands athletic experience, changes perspective on the world
| | |
| --- | --- |
| Andi Walker is a senior from Plainfield, Illinois. She plays second base on the Augustana College softball team, which during the holiday break traveled to Australia to experience the culture and compete internationally. | |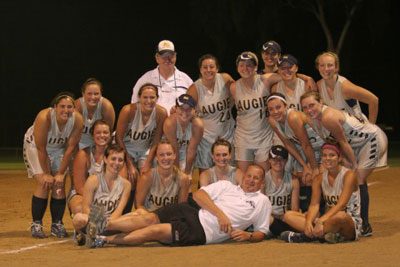 Travel with the Vikings
Ten Augustana athletics teams have competed internationally in the past decade, and three more are scheduled to travel overseas in the summer of 2010. For experiences like this -- and any other international travel that broadens the education -- Augustana students are eligible to take advantage of Augie Choice, which grants up to $2,000 per student to support hands-on learning.
It was the day after Christmas, and what could have been better than leaving the snow-covered, wintry wonderland of Chicago for the warm, summer weather of the Australian continent. What made it better was that I was able to take the trip with my best friends and play softball. What a perfect trip!
We began in the Gold Coast, where we explored the beach area of Surfer's Paradise, shopping and playing at the beach in the 80-degree weather. It was January and it was 80 degrees! Who could ask for more? Our second day, we traveled to the city of Brisbane to play the Queensland women's select softball team in a doubleheader. Sadly, our games were rained out. But it worked out in our favor, as we were able to sit down and talk with the Australian players. We not only learned more about the Australian culture and customs, but we also learned that three of their players were Olympians from the 2008 Australian team. The next day, we took a ferry to Stradbroke Island, where we all learned to snorkel and sea kayak, which was quite entertaining.
The next day, we flew out to Sydney. We spent four amazing days in the capital city. We visited Manly Beach, walked the Harbor Bridge, went to the Opera House and Botanical Gardens, explored Darling Harbor, visited the 2000 Olympics complex, pet koalas and shopped at Paddy's Market in Chinatown. We saw the entire city from the top of the Sydney Tower. And that's only a glimpse into the fun we had in Sydney.
The last part of our trip was spent back on the Gold Coast and in Brisbane. This time, we played both games against the Queensland women's 19-and-under team. We lost the first game 4-3, but rallied back and won the second game 4-1. We were extremely proud of our performance and felt we did an excellent job representing not only Augustana College, but the United States.
This was truly the trip of a lifetime! I could not have asked for a better experience. I learned about a new culture and its customs, as well as gaining a new love for softball by seeing how loved it is overseas. Watching others play with the same passion as our team makes me realize how much I love this sport and how proud I am to play with a team as excellent as the Augustana Vikings.
The trip to Australia broadened my athletic experience, and it also showed me how important it is to travel and experience the world beyond the United States. It's easy, as Americans, to isolate ourselves in our own culture, without ever going outside our comfort zone. Talking with those I met in Australia, I learned so much about the world, and I wish I had been able to stay longer to learn more!
-- Andi Walker '10