2011-12 Season - Sara Tisdale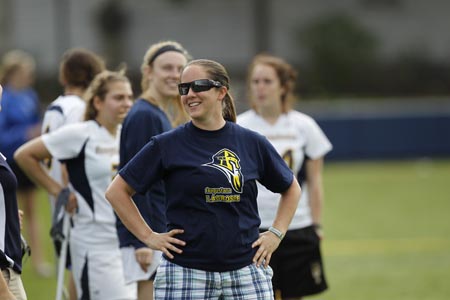 Sara Tisdale enters the 2012-13 school year in her second year as Augustana's head coach after directing the Viking's to a sterling 15-3 record in the program's inaugural campaign. Tisdale, who served as the head coach of the women's club lacrosse team at Michigan State in East Lansing, Michigan before coming to Rock Island, with a wealth of experience with her to Augustana.
Tisdale's first season at the helm of the Vikings was marked by superb offensive performances- her team led the nation in scoring and goals per game, while Augustana had several players ranking in statistical categories, including freshman Hilary Kargl's NCAA leading 97. Tisdale's squad also was a stern defensive unit, allowing only 8.06 goals per game and ranked in the top five in the country in caused turnovers.
Besides serving as the head coach at Michigan State, she was also the women's varsity lacrosse coach at Waverly High School in Lansing from 2006 through 2009. Prior to that, she spent four years (2002-06) as the assistant varsity coach at Waverly.
She has been a teacher of physical education and health at Grand Ledge High School in Grand Ledge, Michigan from August of 2006 until the present. She also served as the junior varsity volleyball coach at Grand Ledge for the past three seasons. Tisdale was also a first team all-state attack player at Waverly High School from 1999-01 and helped lead Waverly to a state title in 2001.
After her success as a player at Waverly, she went to Central Michigan University in Mt. Pleasant, Michigan where she played from 2004-06.
She earned her Bachelor of Science degree in education with a secondary emphasis from Central Michigan, graduating Cum Laude in 2006. She is currently working on pursuing her Master's degree.
Tisdale has also been active as an official in women's basketball and has been a regular in the Michigan intercollegiate Athletic Association (NCAA Division III), the Wolverine/Hoosier Athletic Conference (NAIA) and the Great Lakes Intercollegiate Athletic Conference (NCAA Division II).
SARAH TISDALE'S COACHING RECORD
| | | | | |
| --- | --- | --- | --- | --- |
| YEAR | W | L | T | .PCT |
| 2012 | 15 | 3 | 0 | .833 |
| OVERALL | 15 | 3 | 0 | .833 |
saratisdale@augustana.edu