Steven C. Bahls (1954- )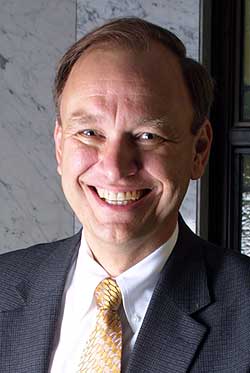 Steven C. Bahls
Eighth President of Augustana College, 2003-
Steven C. Bahls was born in Des Moines, Iowa, in 1954. A graduate of the University of Iowa and Northwestern University School of law, Bahls is both a C.P.A. and a lawyer, and a recognized scholar in business law and agricultural law. Prior to joining Augustana College, he was dean at Capital University Law School, and associate dean and professor at the University of Montana School of Law. From 1979 through 1985, he practiced corporate law with the Milwaukee law firm of Frisch, Dudek, and Slattery.
During Bahls's presidency, Augustana has developed "Authentically Augustana: A Strategic Plan for a Premier Liberal Arts College"; completed the Duane R. Swanson Commons, a residential facility which includes apartment-style housing for upper-classmen; and renovated Carlsson Evald Hall.
His tenure has also seen the development of the "Five Faith Commitments of Augustana College", created to articulate the ongoing relationship between Augustana and the Lutheran Church, and curricular changes including the development of Senior Inquiry and Augie Choice.