October  26, 2009
Joined by a mural: Students paint to connect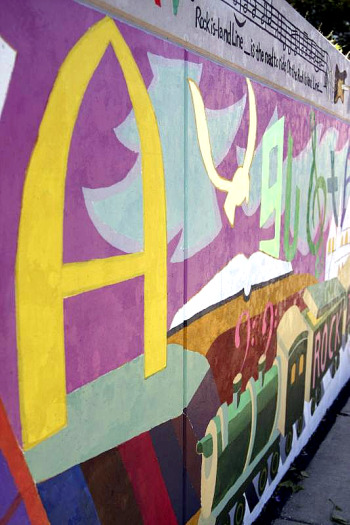 The Augustana "A" anchors one section of a mural along 38th Street. (Photos/Dana Gustafson)
Students are painting a large, bright mural along 38th Street to promote the connection between cultures, the college and the community.

Felipe Villagomez
Members of the student group Phoenix noticed that a few murals in the area have been covered over. They felt this was a loss to the community and they wanted to bring back the local and personal feel that the murals gave to Augustana.
So they decided to paint their own. Volunteers have been meeting on Saturday mornings and they're working hard to accomplish their goal before winter comes.
"I hope to get the first half done by beginning of winter and continue in spring again," says Peter Xiao, professor of art.
The mural -- as yet unnamed -- is being painted by Phoenix and the Artisan's club as well as Xiao's art classes. Student Services will cover initial expenses for the mural and the Office of Diversities has been supportive of the project as well.
The mural is to promote diversity on campus and create a connection between the community and the college. The theme of the mural is the connection of differences (cultural, racial, ethnic, etc.) through music. Using music serves well for its purpose, as it is a common point of interest for all, the students believe.
"We wanted to find a way to celebrate differences while also acknowledging a sense of community between different experiences," says Felipe Villagomez, president of Phoenix. "The theme of music fits this well in that it is a common aspect of most cultures while also being very distinct and unique to each."
Felipe says he hopes and believes that students will, "walk away with a strong sense of positive change."
"The message behind the mural, which is to appreciate differences in order to promote love, coexistence, and equality, is a strong one that can have an impact on how people value diversity."
Those working on the mural believe it will make a big impact and hope the community will take it as a visual gift.
"This mural will have a profound effect on Augustana College as well as the community," Felipe says, "Working on this project gives us the feeling of accomplishment and the humbling experience that we are helping to develop important aspects of the college."