Students put in the time to do what they love
Five Augustana students are seizing the opportunity to be on stage, even though it's like cramming an extra full-term class into a couple of weeks.
The Big Funk: Bergendoff Hall of Fine Arts, Potter Theater (map)
Performances: 7:30 p.m. Oct, 16, 17, 23, 24
1:30 p.m. Oct. 18, 25
Tickets: $10 or $8 seniors/students; order tickets online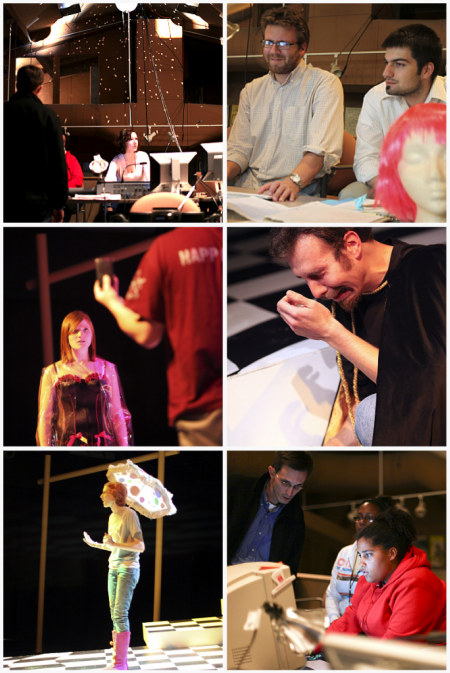 At rehearsal, clockwise, from center left, Samantha Bestvina; Rachel Krein; Adam Parboosingh, assistant professor of scenography left, and director Ben Webb; Neil Friberg; Scott Irelan, professor of theatre arts, with Jaleesa Patterson and Rachel Stearns; and Annie Tunnicliff. (Photos/Marla Alvarado-Neuerburg)
For a few hours Oct. 16-18 and 23-25, they will be Austin, Fifi, Jill, Gregory and Omar in John Patrick Stanley's "The Big Funk."
"The Big Funk" characters talk about "terrible parents" and make declarations such as: "Love is simple." But before those characters can come alive onstage and explore the meaning of life, a great deal of time, work and thought must go into a student production like this one.

"Rehearsals are like labs to us," explains director Scott Irelan. "We experiment with choices in design as well as acting choices to see what works and does not work in terms of overall, unified storytelling."
Those involved in the show rehearse between 15 and 21 hours a week for seven weeks and then more for the eighth week in preparation of the opening weekend. To put this into perspective, a class at Augustana typically meets about five hours a week, meaning about 50 hours per term. A theatre production meets about 50 hours in just over two weeks.

It's obvious the students put in the time to do what they love.
Jake Lange, a sophomore starring in the show, started performing in theatre while still in junior high. "I did one play and then I just had to do every one of them thereafter," he says, "It was just a big rush."

Another cast member, first-year student Samantha Bestvina, also began her dramatic career in junior high. She says it just feels great to entertain.

"Being on stage is like an addiction," she says. "I love it."

Students do not need to be theatre majors to perform in a production at Augustana. All five students performing in "The Big Funk" are either first-years or sophomores and have therefore yet to declare a major. Yet of the five, three seem as if they are on the path to declaring a theatre major or minor, such as Jake Lange, for example. All students are welcome, however, to audition and perform in a production. Also appearing in "The Big Funk" are Neil Friberg, Annie Tunnicliff and Martin O'Connor.
"We're all working very hard to put on a show for the audience that we hope they will find enjoyable," Lange says.

The theatre department will host three main stage shows this year; one for each term. The winter production will be "The Secret Garden" and the spring show will be "The Seagull." During this time, there will also be many other student-run opportunities given by the members in the directing class.

"The Big Funk" contains some mature language and themes and may not be suitable for all audiences. Tickets are $10 for the public and $8 for students.

"'The Big Funk" is both good and funny," Lange says, "It expresses some big ideas and it's right up the alley of what Augie students are looking for."
Story by Kelsey Miller '13