September  09, 2009

Augustana student Wendy White, left, and Dr. Kathy Jakielski work with Claire Johnson at the college clinic. (Photos/Marla Alvarado-Neuerburg)
Dr. J and families work against rare speech disorder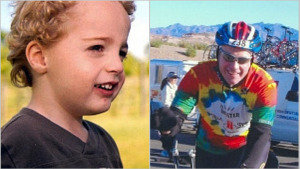 Jackson Welge and his father Tom.
Fund-raising dad here Sept. 20; students working to help cause
Students in the Augustana Communication Sciences & Disorders program are eager to see Tom Welge again. They want to give him a check.
They met in July at a conference of the Childhood Apraxia of Speech Association of North America (CASANA) in Chicago. Welge was there to learn more about apraxia, a disorder his son has. The students were there with their teacher, Dr. Kathy Jakielski, a nationally recognized expert on apraxia.
Now Welge has decided to give back to CASANA by embarking on a 585-mile fund-raising bike ride down the Mississippi River. He'll start on the Wisconsin-Illinois border and his first stop will be in Rock Island Sept. 20. The students will turn out on the river to greet him. He'll be their guest at a picnic on campus. (See Tom Welge's blog.)
"I'm just amazed by those students," he says. "It is great to see the next generation of speech pathologists."
Tom and Tracy Welge and son Jackson, age 4, live in the small southern Illinois town of Chester. After seeing several professionals, Jackson was diagnosed with apraxia two years ago. Tracy Welge soon found CASANA online. In Chicago, they met Dr. Jakielski and heard her speak.
"She is a really great advocate for kids and families," Tom Welge says.
Along with Dr. Jakielski, more than 15 Augustana students attended the conference. Three of them were invited to present their student research on CAS -- the first time undergraduates were invited to do so, Dr. Jakielski says. All three now are in graduate school.
Because CAS is rare, Welge agrees the Augustana group's familiarity from seeing patients at the college clinic will benefit their careers. For example, one large university hospital asked to see Jackson because they had never treated a CAS patient.
Welge wants other parents to know the disorder is treatable if a child gets the right therapy early. "When our son was diagnosed he was so bad he was not even on the scale," he says. "After a year he was moderate-to-high. This last month he tested as slight."
(CASANA accepts donations online.)
Spend five minutes with Kathy Jakielski and you will understand why young people want to study with her.
"Dr. J," as she is called by her students in the Augustana Communication Sciences & Disorders program, has 25 years experience in the field but retains the enthusiasm and eagerness of someone just starting out. At first, she thought she might specialize in disorders of the palate. Instead, she became a nationally recognized authority on a rare and baffling neurological disorder called Childhood Apraxia of Speech (CAS).
Children with CAS usually are normal in all respects but one: They can't talk.
"Apraxia is the disorder I love to hate," says Dr. Jakielski.
It's no wonder. CAS is difficult to diagnose and may be confused with other disorders. It takes far longer than any other speech problem to treat – years instead of months – and so treatment may cost 10 times more.
Children with CAS "have great difficulty planning and producing the precise, highly refined and specific series of movements of the tongue, lips, jaw and palate that are necessary for intelligible speech," according to the Childhood Apraxia of Speech Association of North America (CASANA).
At the Augustana Center for Speech, Language, and Hearing, students and faculty treat about 85 children each term. This term the clinic is seeing eight children with CAS, giving students a unique opportunity to see and participate in their treatment. (To put that in perspective, most speech pathologists will encounter only one or two children with CAS in their entire careers, Dr. Jakielski says.)
Knowledge about CAS will be helpful when Augustana students graduate because they are more likely to see it. Dr. Jakielski says cases of CAS – thought to afflict one or two children in a thousand a decade ago – are on the increase, though it's unclear whether there are more cases or simply more correct diagnoses.
A genetic hunt
There is little doubt it has a genetic basis. Three of the clinic's CAS patients are siblings. Recently, on one of her many trips out of state to diagnose a child, Dr. Jakielski worked with a mother and son who have CAS.
"I've been working with a senior researcher at the University of Wisconsin-Madison for four years looking for a genetic base and we're involved in some interesting families now," she says. "One gene has been identified so far, but that's it. Many of us are looking for other genes, though."
A Rock Island family is part of the search. Gerianne and Craig Benisch and their 8-year-old son Colin, who has CAS, all donated blood for analysis.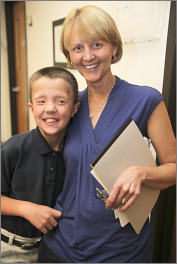 Colin Benisch and "Dr. J"
"We are so impressed and so blessed that we have Dr. Jakielski and the clinic," Geri Benisch says.
Colin's delay in speaking was suspected when he was a year old. After a frustrating year of therapy and no progress, they tried another therapist who mentioned apraxia. Then another diagnosed something else and said he would never speak. Finally, when the Benisches heard about the Augustana clinic, they figured they had nothing to lose. Colin met Dr. Jakielski when he was 4.
"Dr. J said, 'He sure looks like he has apraxia.' And I said 'wonderful,' because I knew at least it was something treatable," says Geri Benisch.
"He is doing fabulous," she says. "We have sentences. We have made such progress and now people understand him. That is such a good feeling for us!"
Colin, she adds, has fallen in love with just about all of his therapists at Augustana's clinic. "It's amazing the rapport the students are able to establish with the children," she says. "They make him feel like he's their only client."
Bonding is mutual
"I love working with children with CAS for several reasons," says Dr. J. "It is a complicated disorder that presses me to consider every aspect of the speech system, unlike any other disorder, so it keeps me current in a variety of areas. It is very rewarding to work with a child in producing his or her very first word or short sentence.
"Because it can take children with CAS years and years to achieve normal speech, if they ever do, I've followed these children through childhood and adolescence. I get more from the children and family members than I've ever given. "
Dr. Jakielski has both clinical and research experience in CAS: She worked as a master's level speech-language pathologist for nine years prior to returning to school for a Ph.D. At Augustana, she holds the Florence C. and Dr. John E. Wertz Chair in the Liberal Arts and Sciences.
However, she's reluctant to call herself an expert. "Yes, I am listed as an expert by our national certifying organization, as well as by CASANA. However, one never feels quite like an expert about anything, let alone something as complicated as CAS," she says.
"There are not many researchers studying CAS, so I feel an obligation to do good work for my discipline," she adds. "I love thinking about speech development and disorders."
-- Leslie DuPree