July  30, 2009
Augustana, Longfellow are liberal arts partners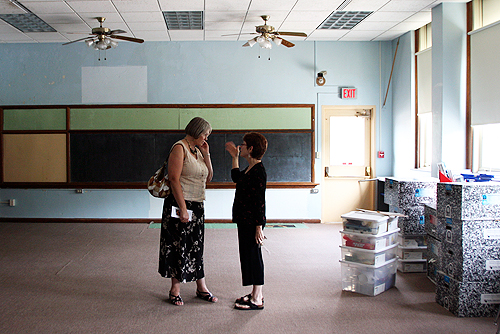 Jane Bahls, left, and Patricia Shea chat in the Longfellow room that will be the Augustana classroom under the new partnership between the college and the school. (See the
open house photo gallery
.)
The neighbors show up when there's a party, and that's what happened at Longfellow Liberal Arts School this week. Augustana College representatives were on hand for a ribbon-cutting and cake in honor of the school's expansion and remodeling. But the school and the college are more than neighbors. Beginning this fall they will be full-time partners, working together to institute a liberal arts curriculum at Longfellow.
The school district and the college have been working on the enhanced curriculum for more than a year. Longfellow teachers will be considered college faculty, able to use Augustana's resources. A classroom at Longfellow will be staffed with a rotating group of college faculty.
Longfellow, built in 1935, started construction last September. The project includes a new cafeteria, media center, classroom additions and a relocated entrance. The new additions will allow Longfellow to increase enrollment to 250 students from about 180 last year.
"The parents, teachers, and Augie are so excited to get this partnership going," Longfellow principal Dave Knuckey said in an interview earlier this year. "This is kind of like a melting pot of new ideas, that's the most exciting part."
Charles Hyser, co-chair of the college education department and liaison to Longfellow, said the college plans to involve all faculty and students, plus work in all disciplines. Biology instructors, for example, could help students choose native plantings and chemistry students teach with experiments. The college's education students will get experience working with the children. The relationship will help make the most use of college resources, such as the Fryxell Geology Museum and John Deere Planetarium.
College officials call the effort a "whole curriculum to benefit the whole child" that will include more fine arts and language arts. They also expect students will get more individual attention.
In the February, Rock Island voters approved a $33 million Building Excellence plan to pave the way for the Longfellow Liberal Arts School work, a new elementary school and other projects.