2009-2010 Season - Assistant Coaches
Mark Beinborn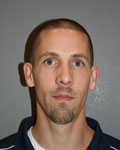 Mark Beinborn joins the Augustana athletic department staff as the full-time assistant coach for women's basketball beginning with the 2008-09 school year. Beinborn has a long history with current Viking head coach Bobbi Endress, having served as her assistant for two seasons at Edgewood College in 2004-05 and 2005-06.
"Mark Beinborn will be a tremendous asset to our program," said Endress, who will be entering her third season as the Augustana head coach. "He has great knowledge of the game, works well with student-athletes and shares my vision of what we want to accomplish at Augustana."
Beinborn will replace Jessica Cox, who resigned her position following the end of the 2007-08 school year. He was at Edgewood College in Madison, Wisconsin for four seasons, serving two of those as the assistant coach for the women and two (2006-07 and 2007-08) as the assistant coach for the men. He was also the assistant men's coach at the University of Dubuque in Dubuque, Iowa for three years (1998-01).
"I am really excited to be joining Bobbi Endress at Augustana," said Beinborn. "We had a great working relationship at Edgewood and I anticipate that same kind of success."
While at Edgewood, Beinborn and Endress combined to post a 36-20 overall record and a 23-7 mark in the Lake Michigan Conference. Included in that stretch was a 21-8 campaign in 2004-05, the school's first ever 20 victory season and a berth in the NCAA Division III national tournament.
Beinborn has a bachelor's degree in physical education from the University of Dubuque (1998) and is currently working on his master's degree in sports psychology from Capella University in Minneapolis, Minnesota. He was an all-conference performer in the Iowa Intercollegiate Athletic Conference for two seasons (1996-97 and 1997-98) and was a two time team captain for the Spartans.
He has been active in all facets of basketball, including organizing and conducting summer basketball camps, running city leagues and founding a semi-pro league.
Mark and his wife Jill are the parents of a daughter Macy and a son Kohl.