2009-2010 Season - Bobbi Endress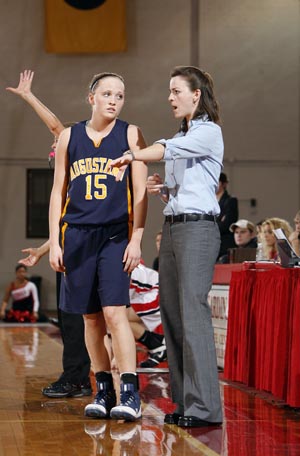 Bobbi Endress will begin her fourth year as the head women's basketball coach at Augustana College in 2009-10. Endress is just the sixth coach in Augustana history. After taking over a program that was winless in the CCIW in 2005-06, Endress' Vikings have made steady progress in here three years and look to be improved yet again in 2009-10.
"I am very honored to have this opportunity to lead the Augustana College women's basketball program," said Endress at the time of her hiring after compiling a record of 36-20 in two seasons as the head coach at Edgewood College in Madison, Wisconsin. "Augustana has a great reputation both academically and athletically and certainly the challenge of coaching in the College Conference of Illinois and Wisconsin was appealing to me."
Endress, a native of Morrison, Illinois, took over the reigns of the Edgewood program prior to the 2004-05 school year. In her first year she guided the Eagles to a 21-8 overall record and a championship in the Lake Michigan Conference with a 12-2 mark. There were a number of firsts at Edgewood that year as the team won the first conference championship, first NCAA Division III tournament berth and compiled the best record in school history.
She was voted the LMC "Coach of the Year" in 2004-05 and also coached the league's "Rookie of the Year". She has coached five all-conference players, one Co SIDA Academic All-American and 16 academic all-conference performers.
Her second team in the 2005-06 season was 15-12 overall and 11-5 in conference play before being eliminated in the LMC tournament semi-finals. During her first year at Augustana the Vikings went 4-21 overall and 1-13 in the College Conference of Illinois & Wisconsin. They were 5-20 in 2007-08 and 3-22 in 2008-09, fielding a team that had just one senior.
She also served as the senior women's administrator and the advisor to S.A.A.C. (Student Athletic Advisory Committee) while at Edgewood.
Besides being the head coach in women's basketball, Endress also served as the head coach in women's golf at Edgewood, leading her team to LMC conference titles in both 2004 and 2005. Twice she has been the conference "Coach of the Year" in golf and she has had one NCAA Division III national qualifier and eight all-conference performers.
Before taking the job at Edgewood, Endress worked at the University of Dubuque, her alma mater, as the head coach in golf, and assistant coach in women's basketball and softball. She was also an assistant women's basketball coach at Clarke College during the 2000-01 season.
A graduate of the University of Dubuque in 2000 with a degree in physical education, Endress received her Master of Arts degree in physical education from Loras in 2003.
She enjoyed a tremendous playing career for the Spartans where she was team captain for three seasons. When she graduated she was second on the school's all-time list in games played and fourth in assists and was named one of the "all-time greatest players" in 2003.
"I have always known that I wanted to be a coach," said Endress, who is a 1995 graduate of Morrison High School and is a member of the Mustangs "Hall of Fame". "I have played and worked for lots of different coaches and I think that went a long way towards making me develop my own philosophy. I believe in playing strong defense and that is what we will stress here at Augustana."
BOBBI ENDRESS' YEAR BY YEAR RECORD
| | | | | | | | | |
| --- | --- | --- | --- | --- | --- | --- | --- | --- |
| YEAR | W | L | .PCT | W | L | .PCT | FINISH | SCHOOL |
| | Overall | | | Conference | | | | |
| 2004-05 | 21 | 8 | .724 | 12 | 2 | .857 | FIRST – LMC | Edgewood |
| 2005-06 | 15 | 12 | .556 | 11 | 5 | .686 | Third – LMC | Edgewood |
| At Edgewood | 36 | 20 | ..643 | 23 | 7 | .767 | | |
| 2006-07 | 4 | 21 | .160 | 1 | 13 | .071 | Eighth – CCIW | Augustana |
| 2007-08 | 5 | 20 | .200 | 3 | 11 | .214 | Seventh-CCIW | Augustana |
| 2008-09 | 3 | 22 | 120 | 1 | 13 | .071 | Seventh – CCIW | Augustana |
| At Augustana | 12 | 63 | .160 | 5 | 37 | .119 | | |
| CAREER | 48 | 83 | .366 | 28 | 44 | .389 | | |