2009-10 Season - Scott  Johannsen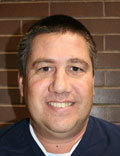 SCOTT JOHANNSEN – Head men and women's swim coach
Scott Johannsen will begin his second year as the head coach of both the men and women's swim teams at Augustana for the 2009-10 school year. Johannsen, who replaced Greg Naumann in June of 2008, put together a solid first year in charge of both programs.
He led the Augustana women to a 4-2 dual meet record and a fifth place finish in the College Conference of Illinois & Wisconsin. The Vikings won three invitationals in 2008-09, taking the Augustana Invitational, the Eureka Invitational and the Panther Invitational at Principia College. They finished second at the Illinois Wesleyan Invitational, third at the IWU Halloween Invite and fourth at the Grinnell Invitational. To top off the season Augustana was one of 83 teams in NCAA Division III to be awarded "All-Academic Team" honors by the College Swim Coaches Association of America, thanks to a cumulative grade point average of 3.33.
The men went 3-3 in dual meets during Johannsen's first year and placed sixth in the CCIW. The Vikings won the Eureka Invitational and were second in both the Panther Invitational and the Augustana Invitational. They were fourth at the IWU Halloween Invite and the Illinois Wesleyan Invitational and placed fifth at the Grinnell Invitational.
"I am pleased that Scott Johannsen has accepted the head men and women's swim coach position at Augustana," said Mike Zapolski, director of athletics, at the time of his hiring in the summer of 2008. "At the beginning of this search, it was clear that establishing a higher level of commitment and continuity from a coaching perspective was critical. I believe that Scott has the expertise and passion to be a difference-maker for the future growth of swimming at Augustana. Scott is a Quad Cities native and a well-known commodity in the regional swimming community."
Johannsen has been the head coach of the Pleasant Valley Stingrays Swim Club from September of 2006. He was responsible for a club that had 150 swimmers. He is also the owner/manager of the Samax Corporation since 1994.
He was a standout swimmer at Davenport West High School where he became the first four year varsity letterwinner in school history. He was a three time first team all-state performer in the 100 butterfly and held the school record in that event until 1996. He attended Western Illinois on a swimming scholarship and served as captain of the team. He was a two time finalist in the 100 butterfly in the Mid Continent Conference.
Prior to coaching the Stingrays, he was also the head coach of the Rock Island YMCA club team from 1987 through 1990.
He has been active in various youth programs throughout the Quad Cities and has served as the president of the Davenport Knights of Columbus and the John F. Kennedy Athletic Club. He was the vice president of the Kimberly Village Homeowner's Association in 2000-01.
| | | | | | | | | |
| --- | --- | --- | --- | --- | --- | --- | --- | --- |
| YEAR | W (M) | L (M) | .PCT (M) | CCIW FINISH (M) | W (W) | L (W) | .PCT (W) | CCIW FINISH (W) |
| 2008-09 | 3 | 3 | .500 | Sixth | 4 | 2 | .667 | Fifth |