2009-2010 Season - Augustana Wrestling Camp 2010
Viking Wrestling Camp
Featuring Augie coach Eric Juergens and guest clinicians Matt McDonough and George Gogonas
When: June 14-16
Where: Augustana College
Cost: $75 before June 7; $100 after June 7
* Make checks payable to Eric Juergens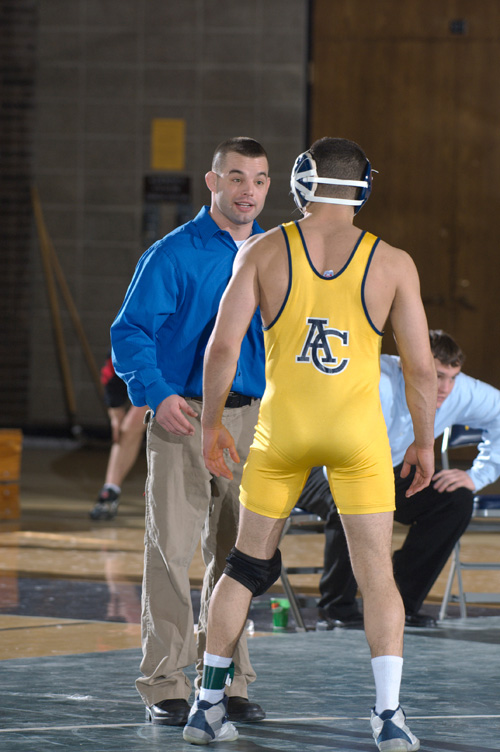 Camp Staff
Eric Juergens, camp director
Head wrestling coach, Augustana College
Four-time Iowa High School State Champion with record of 144-0
Two-time NCAA Champion for the University of Iowa
Four-time All-American
2001 Big Ten Wrestler of the Year
Two-time Big Ten Champion
2006 Iowa Hall of Fame Inductee
Matt McDonough
3-time state champion
Third-place at nationals - freestyle
Cadet national freestyle champion
2010 NCAA champion
2010 University of Iowa most valuable wrestler
George Gogonas
2-time state place-winner
2010 NCAA qualifier
Scholar All-America team
Augustana wrestlers will serve as camp counselors.
Young Guns Wrestling Camp
Tuesdays and Thursdays, June 1 - July 22
6:30 - 8 p.m.
Registration form
This camp is for all ages, and all levels of experience. All wrestlers at all levels can improve dramatically on their technique in wrestling, even those already having some success. The farther you go in wrestling, the more important it is to do things precisely, and more efficient. Wrestling is the only sport where you don't have to be "athletic" by society's standards. There is no wrestler body "shape", because wrestling is simply about body positioning and applied leverage. Master the positions you put your body in, force your opponent out of position, and you win. We will cover all areas of wrestling, from the feet to the mat. By going over different holds in wrestling, we will examine not just how to do moves properly, but focus on explaining WHY to do moves one way as opposed to another. We will then live wrestle to try new holds and positions learned. Come and learn how to be the best wrestler you can be!
Contact Coach Juergens at ericjuergens@augustana.edu or (563) 451-2932