June  02, 2009
New concert grand awaits music students
Augustana students will be able to practice and perform on a world-class concert instrument with the arrival of a new Steinway Model D concert grand piano. A large window frame was removed on the second floor of Wallenberg Hall, and a crew of movers used a crane to carefully hoist the instrument into its new home June 1.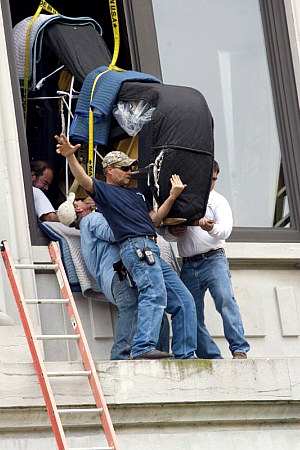 Workers push the 950-pound Steinway through the window into Wallenberg hall. (Photos by Robyn Towle)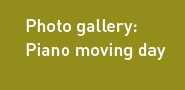 The piano was purchased with a bequest from the late Louise (Meiszner) Nathanson, a concert pianist who taught at Augustana from 1980 until her death in 2008.
The new piano will be an opportunity for students to learn on an instrument that best corresponds to the challenging level of their work. "This is the same type of instrument that students are likely to be playing on for the rest of their lives," said Dr. Robert Elfline, assistant professor of music. "So in this regard, it is an outstanding pedagogical tool."
The new piano will be the primary performing instrument in Wallenberg Hall and will be used by faculty, students and guest artists in public performances.
After the Steinway was moved in, a Bösendorfer Model 290 Imperial grand piano that had been used in the hall since 1990 was moved to Centennial Hall. That, if anything, was a bigger job than moving the 950-pound Steinway. The Bösendorfer Imperial grand is the longest piano in production in the world at 9' 6" and weighs 1,255 pounds. It will be used for music department events and by others using the Centennial stage.
Placing the Steinway in Wallenberg and then moving the Bösendorfer to Centennial was the logical thing to do, even though it was labor-intensive, said Dr. Mary Neil, associate professor and coordinator of the music department's piano area.
Most concerts in Centennial feature large ensembles; in Wallenberg Hall music students and faculty showcase their talents in smaller ensembles or solo performances.
Last December, Dr. Elfline went to the Steinway factory in New York to select a piano with Wallenberg Hall in mind. "For faculty, it allowed us to choose an instrument that was specially selected for the acoustical environment of Wallenberg Hall," he said. "We shall see very soon whether or not I made a wise choice!"
Louise Nathanson likely would approve. "Given the generosity of her bequest as well as her years of service to piano students at Augustana, this is a particularly fine way of paying tribute to such a talented and dynamic person," Dr. Elfline said.
A dedication recital for the Quad-Cities community is planned for September. This will give the piano time to "acclimate to its new surroundings over the summer," Dr. Neil said. The wood instrument must adjust to the temperature fluctuations and humidity levels of its new location to achieve its best sound.
In addition to providing for the purchase of the Steinway, Mrs. Nathanson's charitable gift through her estate plans will fund the Nathanson Applied Lesson Award to assist deserving musical students with the cost of applied music instruction at the college.