May  22, 2009
Vacant lots become a means of service and sustainability
Classroom meets the compost heap at Augie Acres
On the final Friday of the term, it was hot at Augie Acres. Stephanie Dilling and Jaron Gaier each took a tool and started attacking weeds, and soon professor Charles Mahaffey arrived to help.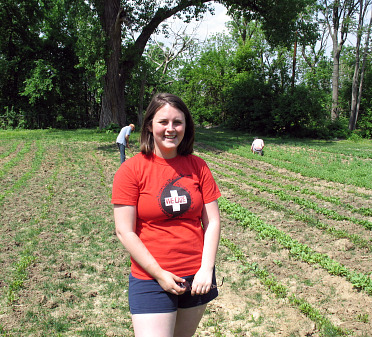 Stephanie Dilling, one of Augie Acres' coordinators, brought some gardening know-how to the project from her experience growing up on her family farm. She is a junior studying mathematics and secondary education. Below, professor Charles Mahaffey hoes and student Jason Gaier pulls weeds from a row of peas.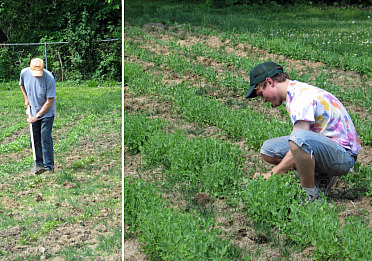 Months of planning, talking and organizing had come down to this: long rows of onions waving their green tops in the breeze, tight curls of spinach, radishes, the red-veined leaves of beets and chard, hills of potatoes, peas and more. Some 35 students helped plant it all; a core group of nine will stick around this summer to care for the plants and harvest the fruits of their labor.
Starting June 5, the Augustana community (including neighbors) is invited to come to a regular Friday afternoon market at Augie Acres to buy some of the bounty. The garden is at 6th Ave. and 34th St., Rock Island. Those who want to lend a hand in the garden work may get a discount on their produce, said Dilling. In the fall, the Augustana food service will use as much of the produce as is available, she said, noting that students were careful to plant crops the college cafeteria needs.
The new student group has about an acre. Part of it is a set of vacant lots leased for $5 from the city of Rock Island. The larger adjoining plots are owned by the college. Because the land is above a hillside that's been deemed unstable, nothing can be built on it.
For gardening, though, it's a good spot: flat, open and sunny. A pre-planting test showed the soil fertility is "better than you would think," Dilling said.
The garden sprouted from the environmental learning community classes taught by professors Mahaffey and Jason Peters, advisors to Augie Acres. Their students talked about and thought about such issues as global warming, the cost of energy, the trend toward buying healthy, locally grown food and sustainable growing methods.
Now, the classroom meets the compost heap. Dilling, a junior who grew up in a farming family near Rochelle, Ill., is one of the few students with gardening know-how and experience, which she has shared freely with fellow students who have never used a hoe. The choice of garden crops was deliberately kept simple this year. "We didn't want to get too ahead of ourselves," she said.
Augie Acres has benefited from the expertise and equipment of farmer Jim Johansen. Johansen, who supplies Augustana with some of its produce through the Farm to Fork program, used a tractor to till the garden and stands ready to bring a tanker with water if the summer is dry. On Friday, students planned to plant tomatoes he'd selected for them. Green beans need to be planted soon, and as the season progresses students will learn about succession planting to lengthen the growing year.
"Augie Acres is open to anybody," Dilling said. She pointed out that the student weeders and diggers come from a range of majors: geography, English, environmental studies and biology, for example. Many are first-year students, which bodes well for the future of the project, she added.
That future may include long-range projects such as an orchard and edible rain garden, and the organizers are looking for ways to involve more of the campus community.
For the summer, however, the work will mostly be done with hoes and hands. Dilling said that in addition to helpers, the group would appreciate any donated supplies, seeds, plants and garden tools. She can be contacted by email. Augie Acres also maintains a blog.